The Round Farmhouse Table
In the first year of blogging, I shared my adventure in remaking our dining room table.  It was quite the journey, and as most learning journeys go, this one took longer than I had anticipated.  Honestly, I have been on the look out since then for an even larger table.  Though it accommodates our family comfortably, having more than three guests sit around with a family of seven gets cozy very quickly.  We host multiple families often, and our remedy has been the card table to seat more guests.  And while practically it works, I just really don't like the look of a card table, at all!
After we got home from our sabbatical in August, I decided to be on the look out for a 42″ round table, preferably an oak pedestal table.  One that could sit by the window and I could place my laptop and write inspired looking out at the valley and mountain before us.  And a table that could be extra seating for the nearly weekly hosting of guests, without hauling the eye sore of the card table up the stairs and down again.
In October I found a 42″ round, drop leaf table at a thrift store.  It wasn't exactly what I had envisioned, however, I could imagine it looking nicer than a card table (quite easily), and I figured I could upgrade, if I ever found the oak pedestal and sell the drop leaf.  It wasn't anything unique.  It was very much a table of the 90's.  Hunter green, turned shiny legs with an orange-ish shiny top.  It was everyone's country dreams come true in the 1990's.  I brought it home to bring it into today's new country, call it what you will, Farmhouse or French Country bliss.  (I forgot to get a good before photo, again.  This before is with a coat of citrus stripper on top, waiting for the thick 90s shine to come off).
As a side note, you will notice sparkle lights and a tree in the back ground.  I know, I am probably the only blogger in January with a tree still up.  I have a post here, you can read more about how I decorate in January.  I don't apologize for it, living close to the mountain in Alaska, we get 2 hours of direct sunlight for two months out of the year, and so I keep the winter white sparkling tree up an extra month.
I sanded the hunter green legs to give it some tooth for the milk paint to grip to.  I used Miss Mustard Seed Farmhouse White with some bonding agent as the first layer.  Then I dry brushed Miss Mustard Seed Schloss, which is quickly becoming a new favorite.  It is the perfect griege.  Then I dry brushed a custom and unmeasured combination of Trophy and Shutter Gray on top to give it the beautiful look of a table you would find with patina in the French Countryside (smack dab in the middle of the mountains in Alaska of course).  I was tickled with how they turned out.  I used Miss Mustard Seed furniture wax to seal it.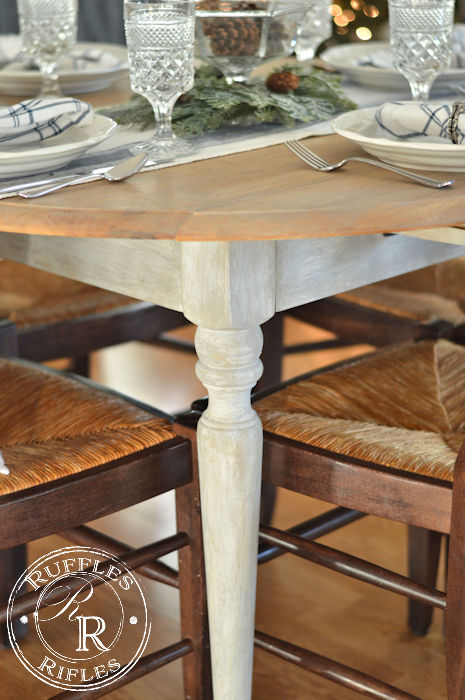 Once the top was stripped, I watered down the Schloss even more and did a wash across the raw wood top.  It was just enough to look like a weathered stain, picking up the wood grain without covering it.  I finished it with Miss Mustard Seed Hemp Oil to make it water resistant.  I debated adding a poly topcoat to make it more durable, but I love the natural wood so much.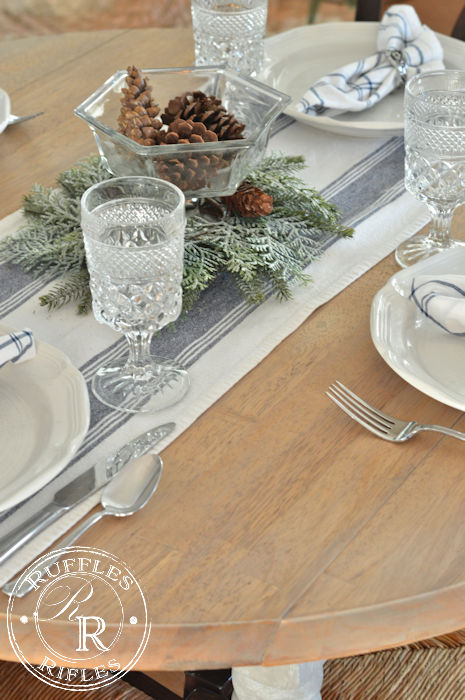 For the most part, the table sits next to the window, where I do my work on the computer, the kids like to use it for various projects as well.  The two French chairs I picked up in Maine grace it on either side.  (But trying to take a photo against the window, I have not mastered yet, so sorry, no photo).
When we have company, the table comes out, and it can easily sit four extras, sometimes six, if the guests are smaller humans.
Being as it is a drop leaf table, it can be quite versatile.  Here it can sit behind the sofa as a console table.

It can be a desk, and fit in a small apartment, or be an extra (non ugly) table for guests!  What would you use a little 42″ round table for?
And far as that oak pedestal table I was looking for, I found it, and have nearly finished it.  So one of the two tables will be for sale soon (I haven't fully decided yet, but I'm leaning in one direction).  Stay tuned for another furniture makeover, especially if you live locally and want your very own small round table!
Thanks for stopping by!
Cheryl
Sharing with: