Scandinavian Inspired Swan Headboard
I finished a piece of furniture this summer, July to be specific.  I thought maybe October would be a good time to share it?  Why not?  All the other blogs are conjuring up all things autumn leaves and pumpkins please, and here's my late summer project.  So if you feel like a fun bit of furniture inspiration, by all means, stick around.  If you're waiting for the next piece of faith inspiration, that will be another post.  If you are looking for fall inspiration, I have some great posts from years past (just type in fall in the search button).
This post is brought to you by way of my favorite store, Thrifters Rock, where one day I happened upon a headboard that had been hanging out waaaaay too long, so they slashed the price and I walked away, with a solid piece of oak.  It was a headboard, and I had no intention of keeping it that way, it just could not be ignored for the price.  However, after a year of sitting around the house (does anyone else buy pieces that sit around for awhile?  Please tell me yes!) I one day felt inspired to go after the Scandinavian folk art look again.  I had been immensely pleased by the little rocking horse I composed last Christmas, and I thought it would be delightful to set the stage for something that could pass for classic Scandinavia or even a bit of little girl whimsy.
For the base layer of paint I wanted a dusty blue.  I ended up using a custom mix of 1/2 Aviary and 1/2 Artissimo in Miss Mustard Seed Milk Paint, after several attempts of other colors I didn't like.
I decided to set the stage with swans.  You may recall, I have a thing for swans.  I used the same template I created for my swan pillow to trace the shape I wanted.  From there, I chose a few shapes I drew with chalk that I wanted repeated to bring unity to the overall feel, and then I would paint, and add more as I felt inspired.
I wanted it to be cheerful, but more in the pastel than primary color range.  And so I chose a pink, white, yellow and green that popped without being hostile.  I used FolkArt acrylic paints in Crushed Coral, Grass Green, School Bus Yellow and Whicker White.
This was one of those projects that took many weeks of coming back to, little by little by little.  It was actually quite therapeutic, I painted a lot during the days of grief surrounding our dear dog Caspian.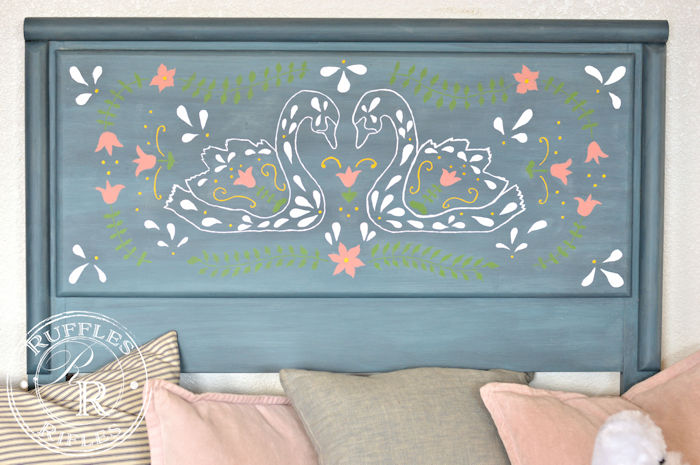 For protection, I sealed it with a couple layers of Miss Mustard Seed's Tough Coat.  I finished it near the beginning of July.  And then life got away from me, and it's sat at the helm of my creative studio awaiting photos, a blog post, and a For Sale sign (well, maybe Facebook Marketplace).  But I haven't minded.  I like it a lot and have enjoyed looking at it, and if I had need of another girl's bed, or a guest room, I would keep it.  But I don't, so I am offering it up for sale for local customers (Mat-Su Valley and Anchorage).
Please email or message me if you are interested!  I have it priced at $150.
Until next time, thanks for stopping by,
Cheryl