Normally, I try not to schedule posts that are so similar back to back.  I know, you just saw The Round Farmhouse Table last week.  But as I hinted, I found a pedestal table a couple of weeks ago at a thrift store.  It was originally what I was looking for and therefore decided to bring it home, give it some love and then sell the extra one.  Since we have not just one, but two 42″ round tables sitting in our living area (in addition to our dining room table), I fear our home might be resembling a furniture shop, or perhaps a cafeteria.  However, I am extremely pleased with how the second table turned out.
I found this tired worn out oak pedestal table at a thrift store.  One of the claws needed repairing, the bolts needed re-securing, and the table top looked like it had undergone much wear and tear (it actually looked worse than these photos show).  But the checkered oak veneer made me think of how pretty it would be to toned down and looking more like weathered oak.  The table had obviously been weathered, it just need to look pretty weathered, not gone through a war weathered.
So I treated this table to the same paint layers as the Round Farmhouse Table.  I made the Schloss wash on the top heavier, because the oak grain was quite noisy.  It was subdued, and I think still rings with the beauty that oak carries so well.  Now even the scars it bares looks like pretty weathered oak made by Miss Mustard Seed's Milk Paint.
The base I also did layers of Farmhouse White, Schloss and Trophy.  I did the tiniest bit of distressing, and I mean tiny.  I love how milk paint behaves, and naturally looks crackled at times, like its seen years when I painted it last week!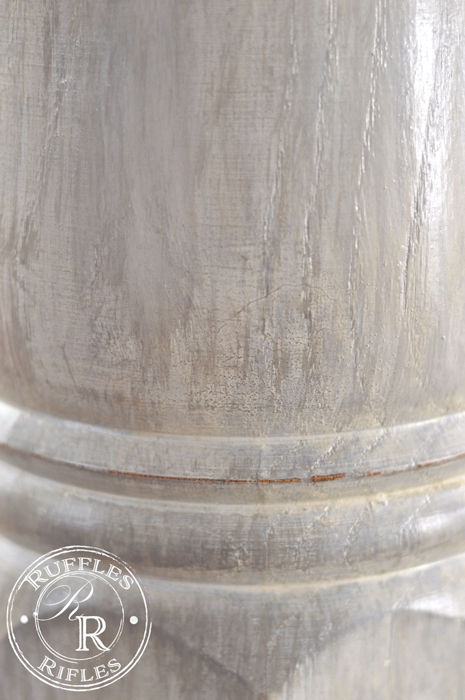 I decided because the table top was veneer, it needed to be sealed with more than just Hemp Oil.  So I used Minwax's Polyacrylic on the entire table in Satin finish to be as little shiny as possible.   I think I have learned so much doing three tables (and desks and other furniture), and this is probably my best table so far, especially using the Polyacrylic.
So I am quite pleased.  Honestly, the beauty in the top gets me every time as I walk by.
As I assessed what would be best in our home though, I decided the Farmhouse Table looked better with the décor and was more versatile.  Which means, this beautiful pedestal table is for sale, because we don't need three tables in our living area (although it would accommodate lots of guests, I would rather our house not resemble a cafeteria).
If you are interested and live locally (Mat-Su or Anchorage area), please contact me via comments, email or texting. (This table is now SOLD).
Once again, thanks for stopping by. I hope you were inspired by the refresh or inspired to have your very own 42″ round table.
Cheryl
Behind the Scenes: My littles were absolutely drooling over this blueberry cake.  They thought it was so silly I made it just for photos.  Perhaps it is, but I enjoy the art in making a pretty photo as much as the art of repurposing furniture or sewing a dress.  So the cake went in the freezer, and we will appreciate it at a later date.