Happy Weekend friends!  Thanks for joining me once again.  Today, I am sharing another original apron I created about a year and a half ago.  This pattern is hands down, my favorite.  I need to make myself one in blue and white of course!
Last Christmas, I made my mom three different aprons.  They all had a common theme, they were made with home décor tree fabric.  However, each was a completely different pattern.  The first one was the Embellished Apron.  It's a simple pattern, anyone can DIY.  The other two aprons I made are original designs by me.  I think, why not make something amazing, inspired by the past, something you feel dressed up in even as you work.
I've always loved designing.  In fact, that's one of the things I want to be when I grow up.  I don't know when that is yet.  So I keep practicing designing.  This pattern and the other original I made for my mom are patterns I have created.  I have thought about making patterns to be published, purchased and distributed in the future, however, that's another piece of the learning curve I need to make strides in.  Because right now, the patterns are on tissue paper with my ink scribbles on them.  I've also contemplated selling them already made, which of course is either a lot of time by me, or figuring out the whole manufacturing element in the world.  In the mean time.  I keep practicing for when I do eventually grow up.
I found a photo of a 1930s dress and used that as inspiration for this apron.  Therefore, according to her era, I have named this apron, "Mabel."
I used Amy Butler's Lark Henna Tree Home Décor Fabric from fabric.com, they no longer carry this, however, I have seen it elsewhere on the web.  And I thought for being a tree fabric, this fabric complemented the 30s design well.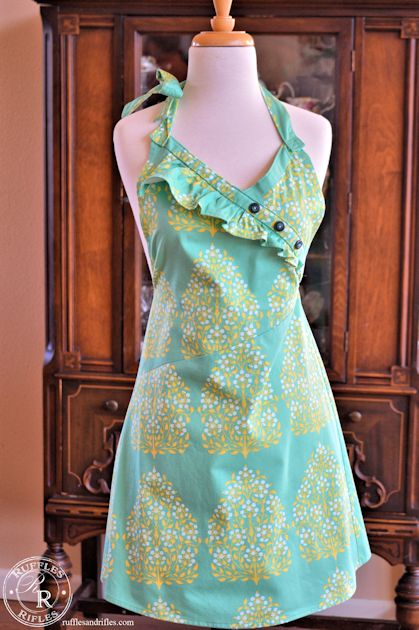 I love the lines on this.  I guess I just really appreciate vintage/antique patterns because they are all designed with details and precision that are uncommon in our current everyday wear.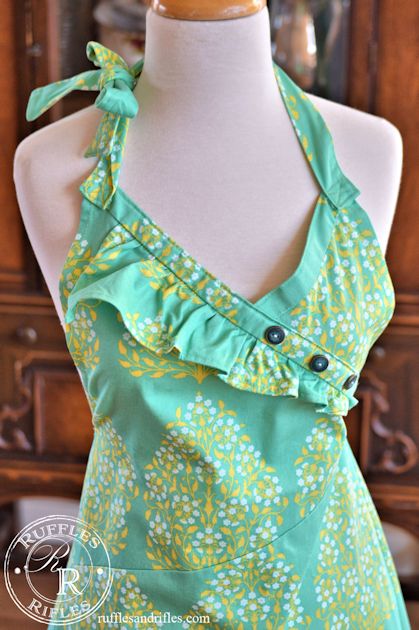 I decided to do a tie around the neck so that it would be adjustable.  It's just cuter than metal D-ring, don't you think?
The three buttons, were thrift store finds.  I love out it brings out the hints of aqua in the trees.
And the ruffle gives it a touch of feminity.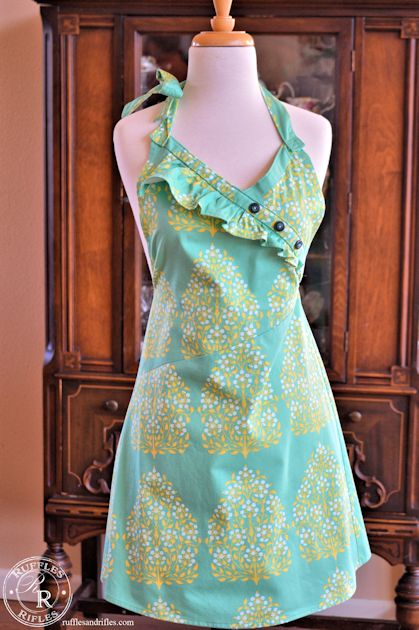 You can be sure I will make another apron (for me) with this pattern, I am in love with it.
I created links to the original posts of the other aprons I've shared below.  Just click on the photo to take you there.
Which one is your favorite?  Would you wear one while working away in the kitchen?
Thanks again for stopping by!
Blessings,
Cheryl