As I have mentioned before, I love making aprons.  They're a relatively quick project (depending on the amount of detail of course or if I am creating a pattern).  They make tremendous gifts (if that person uses them that is) as you can personalize with fabrics and style.  They can be both practical and fun.
My mom uses aprons all the time, and I have made aprons for her year after year.  This last Christmas, I decided to make three new aprons out of different tree-themed fabrics I ordered from fabric.com.
The first apron was really basic.  I just laid a classic apron on my fabric, cut with a 1″ seam allowance, and turned the edges for a 1/2″ narrow hem, made coordinating straps and added two "D" rings to be adjustable.   I try to always use home décor weight fabrics as the thickness helps shield messes better.
Even with a basic apron, there are ways to dress it up.  On this particular apron I took a small rectangle, and pleated it, added a contrasting ribbon and some coordinating buttons I scored at a thrift store.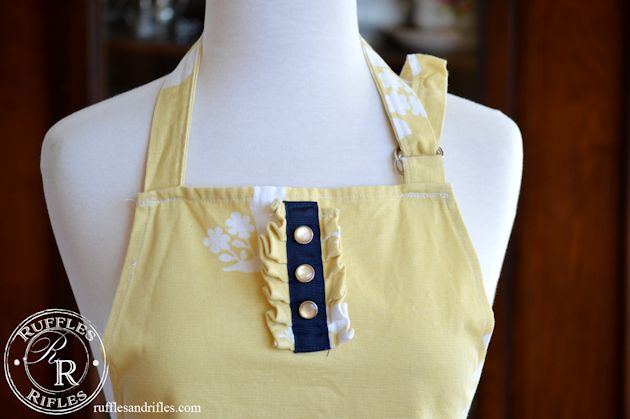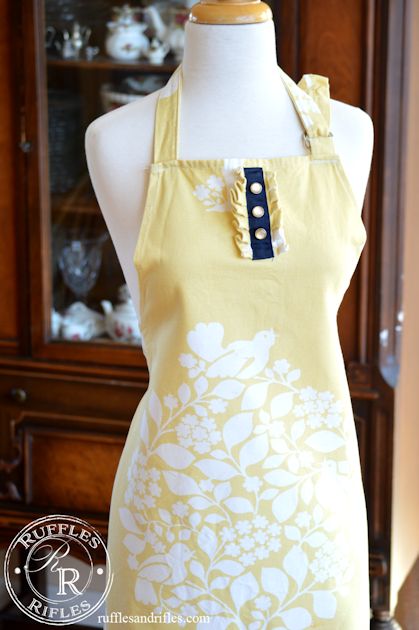 This is a simple way you can dress up a basic apron style and make it unique and a perfect gift.
Once again, thanks for stopping by.