The Needlepoint Farmhouse Pillow and Items for Sale
I think it's been pretty well established that I have a slight obsession with throw pillows. Especially the unique ones, ones that can't be bought at stores, ones that are made from glorious fabrics or made from needlepoint or other thrifted things.  I have an abundance of posts regarding these.
So when I saw this black and white farmhouse needlepoint piece discarded in the craft section of a thrift store, I knew it was coming home with me and would make the most beautiful, unique pillow of Pottery Barn proportions. Perhaps even more unique.  But I also knew, thought I loved black and white, and though I love farmhouse, that I would likely not keep it.  There are times now where my house is being more and more established and I see potential in thrifted items I can't refuse.  This needlepoint is one of them, the pillow potential got me, and it's for sale.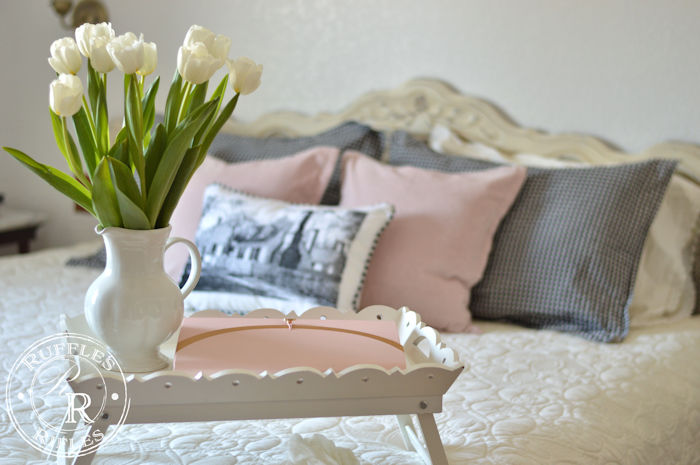 I love that it is solely black and white.  I styled it here with black and white and pale pink (my wedding colors almost 14 years ago), but it would go with any color scheme and any season.  The scene is very reminiscent of Green Gables.
I think it rather draws you into a peaceful scene.  I wrote last year about why I think there is such a farmhouse revival going on.  Yes, I believe Joanna Gaines is the biggest factor, but there is more.  You can read that here.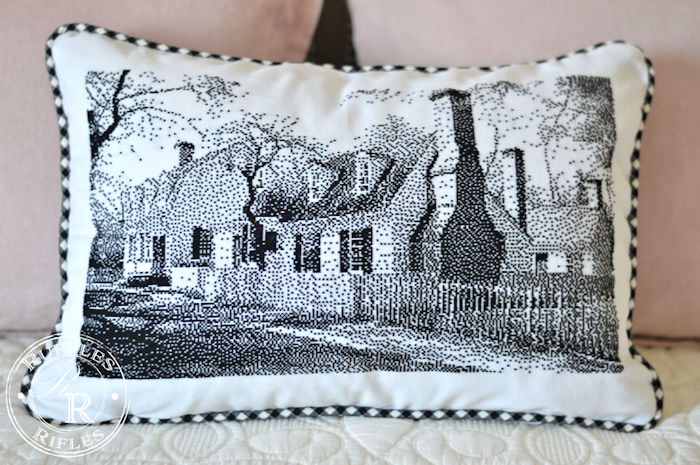 I made this pillow with a zipper and a new pillow insert from Target.  The piping is done in black and white check to continue the farmhouse feel.  The back is solid white duck cloth.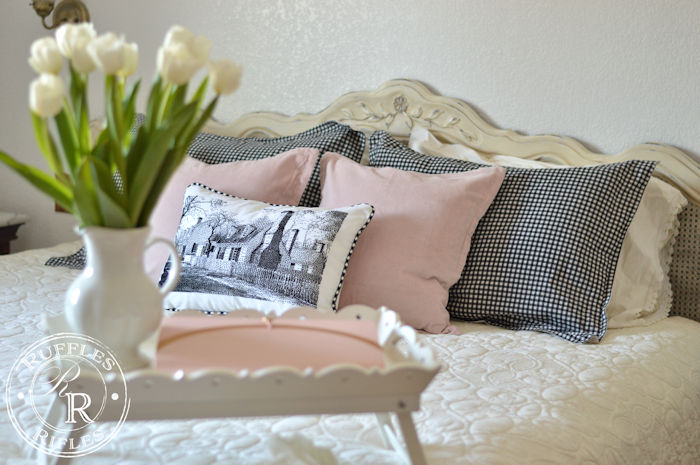 I really do love this pillow. I love how it transforms the scene in my master bedroom.  So if it doesn't sell, I won't be heartbroken.  But if it does, I'm needing to invest back into this blog some more.
I have to tell you, I had been anticipating buying tulips for this photo shoot in particular.  Then my boys came home one evening with these tulips in hand, it was their idea!  Obviously, they've been mentored well.  I got to enjoy them for nearly a week!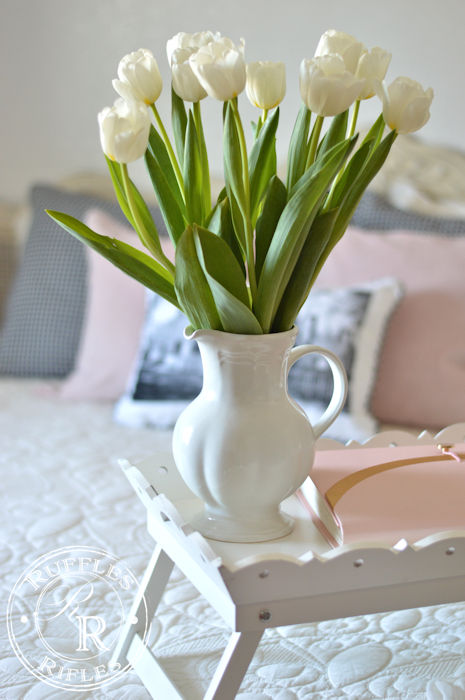 So there you are, a black and white needlepoint farmhouse pillow.  If you hare interested in purchasing it, I don't have a proper store up at this time.  So, unfortunately, that limits who I can sell to currently.  I can sell to you if you're local, Palmer-Wasilla, Anchorage area.  And I would be willing to sell and send this (with additional shipping) if I know you personally.  The pillow is priced at $45.  You can contact me via the comments section, email or my number if you have it.
**The pillow has been sold and rightfully resides in an old farmhouse now.
---
Also, I am selling the bicycle lamp I made for my son's nursery five years ago.  I will not ship this piece, however, it is available for local pick up.  It is priced at $35.  **The lamp is spoken for.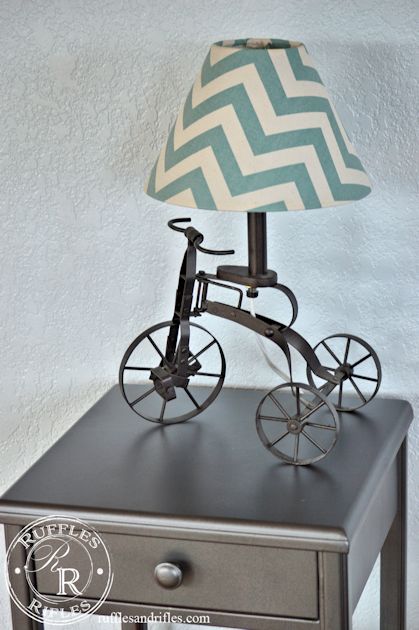 As always, thanks for stopping by!
Cheryl