The Embroidered Throw-Pillow
I have long admired Pottery Barn's throw pillows, you know, the ones with embroidery, that cost $60 for the cover alone.  Then one must purchase the inset in addition to shipping to Alaska.  By the time it's said and done, a sweet little throw pillow would end up costing me $120 or more.  I don't think so…  Especially when I live in a house full of males.  I don't know why men in general think throw pillows are dumb, but I have heard it over and over.  And then there's the boy factor, the boys who take "throw-pillows" literally, like a constant episode of Amelia Bedelia.  They throw them at each other, on the ground, pounce on them, build towers and crash into them, and leave imprinted blueberry stains on them.  In all honesty, our throw pillows are not on the furniture a large percentage of the time, but I insist on them anyway.  So, with all that being said, I'm not spending $120 on a pillow.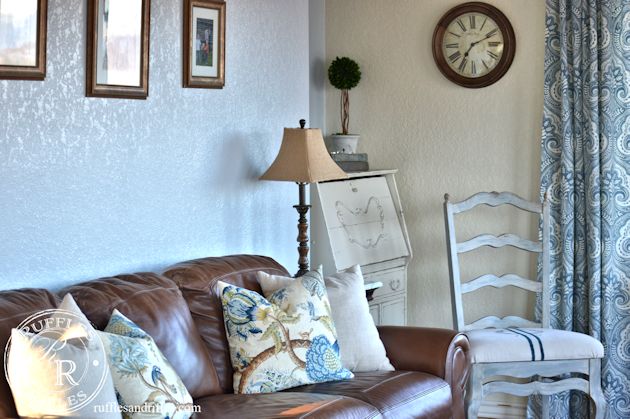 I like to think of throw pillows as accessorizing your furniture.  Accessories are so fun, because you can change the entire look relatively inexpensively.  Before I had kids I had lots of fun necklaces that would totally change the look of an outfit.  Now, four boys later, and the fact that I live in Alaska, and am cold most of the time, I accessorize with scarves and lots of them.  Think of throw pillows the same way.  You can zip the covers on or off, depending on the season or mood you want to portray.  They can look regal or blingy, soft and cozy, fresh and modern, or inviting with pops of color.  Your limits go as far as your creativity can take you.
A couple weeks ago, I needed to get my mind off life for a bit.  My husband had been gone, and well, I was a bit emotional and stressed out.   It's amazing how strolling through the Land of Creative Potential (aka – a thrift store) can change my state of being.  I walked out of the store having spent $10.75 and the potential of taking old junk and transforming it into beauty really did an overhaul on my emotional guage.   Sometimes, the best thing we can do, is just change what we're thinking about.
So, as I was walking around, with a screaming one-year-old on my hip (I was THAT lady that day), this framed piece of embroidery sat on the ground.  It spoke to me, I mean, not really, but, I was so drawn to the colors. the pheasants, and the fact that someone in the 70s or 80s had spent countless hours embroidering a work of art.  My mom spent a lot of time doing crewel when I was younger, and I can still hear the pop of the needle and the gentle swish of yarn as it paraded through the fabric, over and over again.  That's when the thought occurred to me, I could make an expensive looking Pottery Barn pillow for pennies, well, actually $5, but comparatively speaking, it's pennies.
So I ripped the staples out of the framework, and washed the piece on the gentle hand wash cycle, in a lingerie bag, and hang dried it.  I already had a piece of upholstery weight linen in a pillow square cut out, and an invisible zipper that was 25 cents from another thrift store adventure.  So I cut the piece of embroidered fabric to the same size as the pillow square, and serged around all the edges.  Then I sewed in the zipper.  I stuffed it with a feather pillow insert I also had accumulated from a thrift store (I only like feather pillows, I'm picky like that, but I wash and/or lightly bleach them before use).  I'm pretty sure the entire cost to this pillow, the feather insert included was under $8, and it seriously looks like a Pottery Barn investment.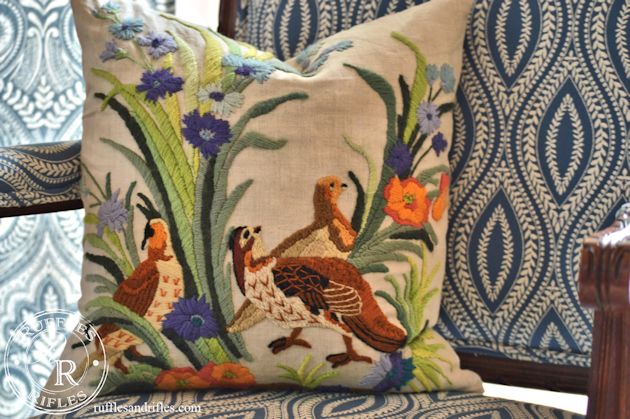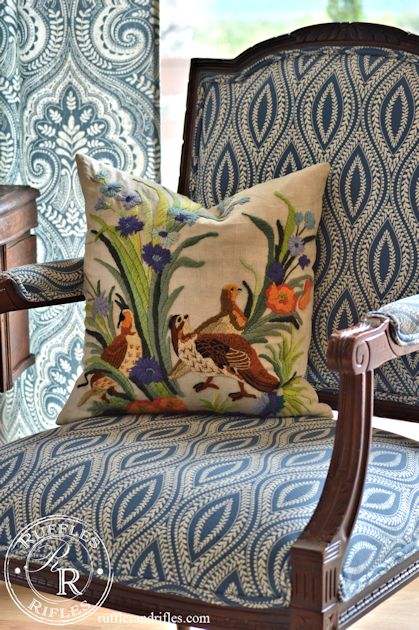 At first, I placed it first on our overstuffed chair in the corner, and it looked good.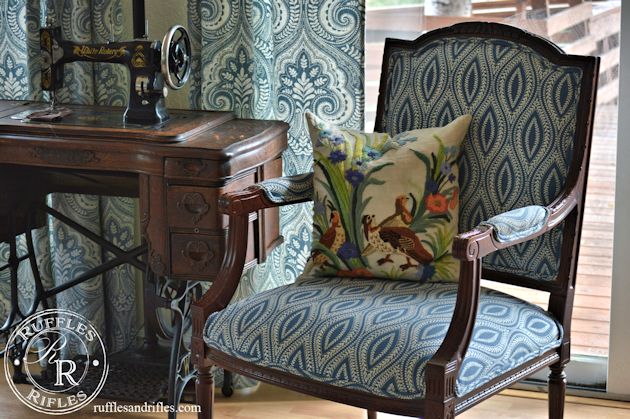 But then I put it on my blue chair, and it popped.  I keep walking by it and just smiling.  I love the colors, I love the birds, I love the embroidery, and I love that I made it out of someone's out-dated trash.  And it is a cheerful accessory that transitions into fall so well. (And that old treadle machine that sits so stately beside…that's for another post.)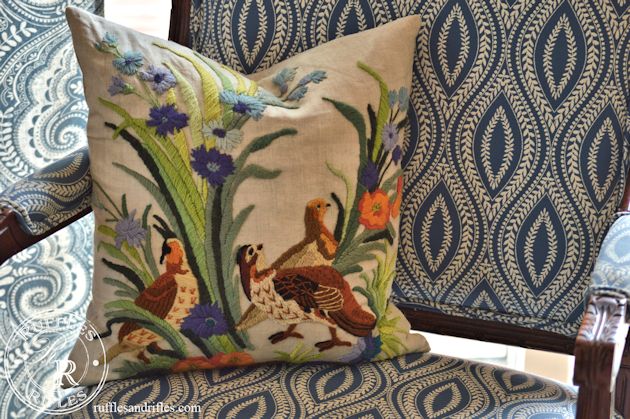 Thank you so much for stopping by, have a great day everyone!
This post was featured on:
Savvy Southern Style's Wow Us Wednesday
Sharing with: