(This is the story of the first chair I painted and reupholstered two years ago.  Because, well, we all have to start somewhere, and why not share with you the beginnings of the process?)
Once upon a time there was a chair. It was used, abused, and forsaken. Renters had little respect for anything in the house, including this little arm chair. When I spied it at a garage sale, I thought it would be the perfect candidate for some restoration love. I had been a Miss Mustard Seed follower for a while, and wanted to try my hand at reupholstering, since the concept of reupholstery to me seemed similar to alterations on garments, I thought it a challenge I could accomplish.
Course of action: take it apart and put it back together, recreated, restored, and revealed as a new creation.
This chair, though small, took a lot of work. The finish on the chair was very shiny, so I sanded it with a little mouse sander. I know now that was a little overboard, but I wanted the milk paint to adhere. The chair was dubbed worthy of being my first milk paint experiment.
Miss Mustard Seed is not sold anywhere in Alaska, so I bought some milk paint that was sold locally. I didn't like the first color, Pearl, it was too white. I didn't like the second color Cream, it was waaay too yellow, so I mixed it at a 2:1 ratio. I used some bonding agent, but it still flaked a bit. I lightly distressed it and sealed it with a mocha burnishing glaze.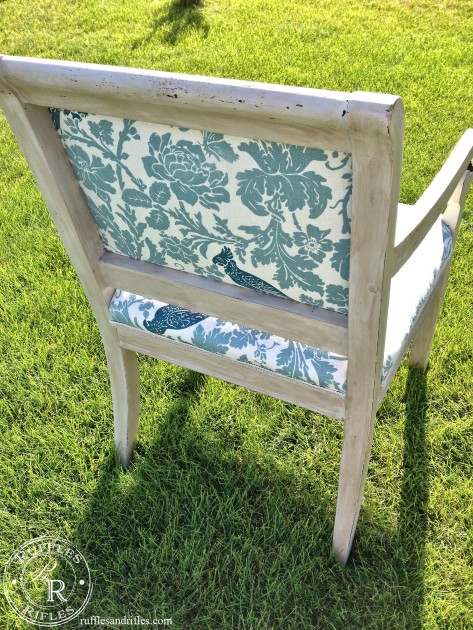 While I finished the painting early on, and purchased new foam (the old stuff was rather disgusting), I wanted to have a friend help me with the reupholstery. I was intimidated. After about 3 months passed, I decided to give it a try by myself. I had archaic tools — a screwdriver for stripping the staples, and a hand stapler — my hand hurt by the end!!! But, I did it. And I was pleased with the results.
Though it was a project that lingered all summer, I realize now, that is really the picture of recovery and restoration. It doesn't happen instantly. There are steps, that have to be done in order. There is waiting, and living in between. There is new-found understanding and truth. Restoration is a process. First the stripping, realizing what is really there and getting rid of the old finish, upholstery and padding (if necessary). And that is the hardest part, the dirty work.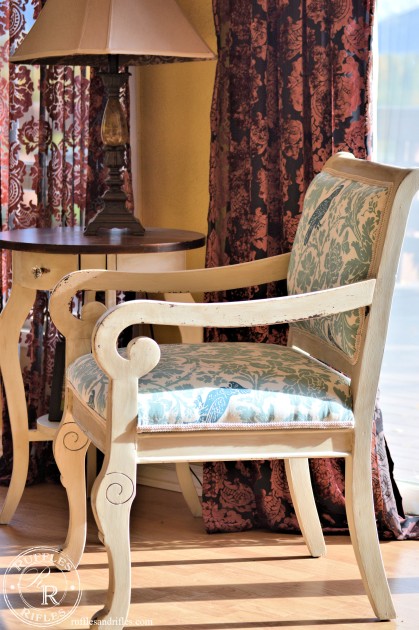 Revealing the re-creation is the exciting part, but every recreation has a restoration story. The restoration beauty represents a vision of full restoration, hours and hours of time invested and a cost to upgrade.  But the end result is worth it all.
Every day, my husband encounters people. Used, abused, forsaken, broken people who manage life according to their addictions. Six years ago, he co-founded a state-certified, faith based, outpatient treatment center, called Set Free Alaska. And everyday, broken people are being put back together, recreated, restored and many come to know Christ as a new creation. The facility has experienced tremendous success, changing hundreds of lives since its beginnings. It has been a thrill to watch and pray as lives are changed, one by one, and an impact is being made on this state. Where there was brokenness, there are new beginnings, people are set free and making a positive impact where there once was only pain.
Last year, when the opportunity to donate towards the silent auction for Set Free Alaska's fundraiser came along, I wanted to give. I've always battled a sense of guilt when it comes to helping people. I'm an extreme introvert, not a people person. I am not a counselor, by any stretch of the imagination. I greatly admire the staff, they pour out their hearts and lives in an effort to impact one life at a time. I pray for them and they are my heroes. As much as I think they are amazing, I recognize that I will never be the counselor type.
So how can I give who I am to help people? That's when it occurred to me I could give a chair to the silent auction. I was thrilled. I prayed about which one to give, and decided on this. It was in essence, my "first fruit", and it had a special place in my heart. I had dreamed about what it would look like, spent about $100 to make it new (foam is expensive), and gave hours and hours to beautify the once used and abused, outdated chair.   I had invested a lot in this chair, I loved this chair, I knew this was the chair I was to give. The proceeds from this chair could make a difference in someone's life.
My chair was sold at auction for a couple hundred dollars. I'm not a counselor, but I supported someone's steps to restoration and freedom. They say it is more blessed to give than to receive. I have only received countless blessings.
Set Free Alaska's fundraiser is coming up on September 26th.  There is no silent auction this year, but if you would like to attend or donate towards someone's freedom, please contact Set Free Alaska.  Also, if you are a loved one is struggling with addiction, there is a chance to be free.  Go to Set Free Alaska on the web, or have help being led to a treatment center near you.
(This was not a sponsored post, all opinions were 100% mine, I receive no benefit from anything written, I just fully believe in this cause. )
And now you know my milk paint and upholstery beginnings.  It's all a process.  Restoration is a process.  Day by day by day.  There is so much joy in the end.
Thanks, once again for stopping by.