The Pillow that Lived Happily Ever After
Sometime last year, I was browsing my favorite sewing blog, Sewing in No Man's Land, when I came across a throw pillow that she had copied from the beloved store Anthropologie.  At the time the blogger, Kelly Crawford and I had one thing in common.  Neither of us were close to an Anthropologie store, so she decided to make her own version using a velvet pillow cover from IKEA and homemade colorful pom poms.
I loved that pillow.  It was so cheerful,  and colorful, and happy.  So I went looking about for some white or off white velvet.  It was no where to be found.  I browsed online, only to be frustrated once again by the exorbitant shipping prices to Alaska.  So out of desperation, I did something I had done in previous desperation, I asked my dear cousin who lives in Oregon to go to IKEA to buy that silly velvet pillow form and send it to Alaska.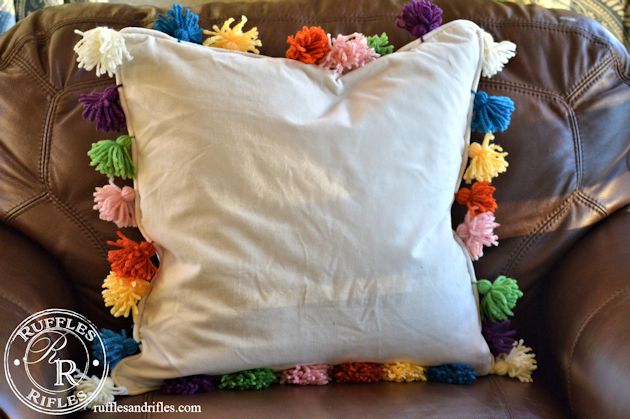 We may live in the largest state of the Union, but we also have the greatest shortage of a variety of stores.  Sometimes, it feels like we live overseas.  I literally save up money when I leave the state to go to Bath & Body Works, Anthropologie, TJ Maxx, Pottery Barn, Macy's, and the list could go on.  There's only so much you can do with WalMart and Sportsman's Warehouse (we have a few others, but you get the point)….
So anyhow, my sweet cousin sent me the pillow sham.  I was so excited!!! My summer camping project; for when I sit cold inside on those rainy summer days (which is frequent in Alaska camping), would be making darling little pom poms for two pillows.  It took me all summer, and I finished them.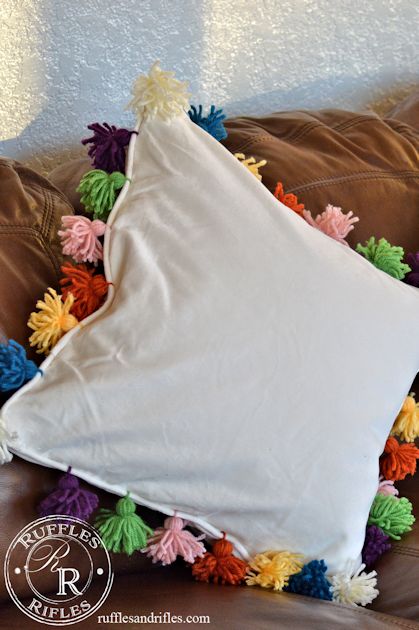 I then had to take my huge pillow sham (it was 26×26 — that's all the IKEA had) and cut it down to a 20×20.  I replaced the piping and added the pom poms.  I finished it, finally, almost a year later.  And I put it on my couch and thought, "that isn't me."  So I was a little disturbed at this point, because I had spent how many hours making this silly pillow, and sent my cousin to IKEA in Oregon to mail it to Alaska.  And now instead of glee, I was frustrated.  It just looked bohemian, and I am a total French Country girl.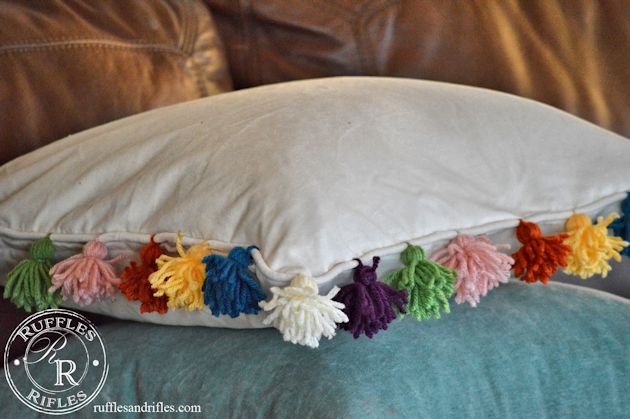 So I got this brilliant beyond brilliant idea.  I could ask my Bohemian-loving sister who lives in Australia if she liked it.  So I snapped a professional iPhone photo and imessaged a casual, "hey, what do you think of this?"  She wrote back that it was her favorite Boho pillow she had ever seen!  Suddenly, my load was light, and I knew this pillow that had started in Oregon, been made in Alaska, inspired by a blog written in Paris, was going to Australia, and it would live happily every after.
I am happy to say, I have seen the pillow via Skype, and it looks quite content in it's tropical environment.  I'm so glad it found a good home, because while it was everything I hoped it would be, it belongs in Australia with my sister.
Thanks again for stopping by!