The Original Repurposers and a Dresden Plate Quilt
Sometimes new fads and trends make me laugh.  Not because of how they look (well, maybe the 80s/90s big bangs were a bit much), but because of this position that thinks this cutting edge "new" thing is it.  And then you take a step back and discover, most style and fashion is not that original but a copy or inspired by a style of the past, with a little twist.
Enter the Repurpose Age fueled by Pinterest.  Don't get me wrong, I love repurposing.  I've really done it my whole life.  I think those who grew up with less, have learned the fine art of repurposing even before it was en-vogue.  You do it because you have to, not because it's the cool thing to do.
Before the Repurposing trend took off on Pinterest, before the Internet and television had an impact on America, there was this thing called the Great Depression.  And you know what it did?  It made people repurpose out of necessity.  They had to repurpose, because every single commodity was a valuable resource.  I love being around the generations that lived during that era.  They don't take things for granted.  We can be the most/wasteful throw-away society and at times some of them can be at times hoarders.  I do believe there is a fine line, and we must be wise, but like every generation that's gone before us, we can learn a lot from them.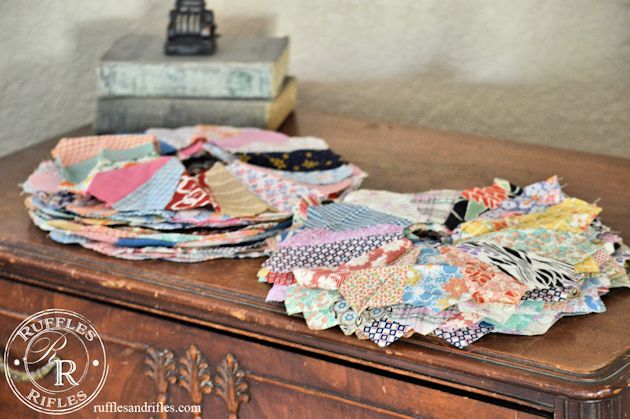 I remember one time I was visiting my Grandma, and I watched and laughed as she ripped the piping out of an old pillow form.  I told her she could buy something new, but she replied, "Well, there's nothing wrong with this!"  And you know what, she was right!  Piping and welting aren't cheap, so guess what I do now?  If it's in good condition, I re-use old zippers, buttons, and piping out of previously used articles.
After my great grandma passed away about ten years ago my grandma went back to New York to help take care of things.  She asked if I wanted anything.  I told her, if there was any old fabric, that would make me happiest.  So she brought back some vintage 30s fabrics, which I have used on special occasions, and some partially finished quilt block pieces.  I thought they were cool, but I put them back in the box for another day.
Ten years later….
We go camping a lot in the summer.  But, camping in Alaska is unpredictable, at best.  We laugh, and pack clothes for three seasons, because you literally never know what you're gonna get, summer, winter (always pack your winter boots and coat and hat!), or spring rain — and my can it rain!  I will admit to you, I am a fair weather friend when it comes to camping.  I like being outside, I enjoy hiking, but I DO NOT like to be cold or wet, which is always a great potential.
Another thing I don't do well, is sit and do nothing.  Ahhhh!  I like to feel productive, and reading a novel doesn't do it for me either.  But, being creative, that makes everything good.  So last year I had the novel idea of bringing a project I could do inside the trailer on cold, wet days.  I brought yarn and made pom-poms for this knock-off Anthropologie inspired pillow, with a tutorial by Sewing In No Man's Land. (See this post for more.)
This year, I got to thinking about those Dresden Quilt block pieces sitting in the box for now for 70+ years.  I got those pieces out and started thinking about the history.  Old flour sacks, cut out and repurposed into colorful quilts blocks.  Each scalloped piece of pattern and color, a moment in time like hands on a clock, etched out history.  How brilliant, how charming, how beautiful.  My great grandma was known for her bread.  She sold it, and I have a heritage of incredible bread bakers.  And I have 44 quilt blocks to show for it (43, actually, I have to complete one last block).  I'm sure that some pieces were just cotton scraps too, but the thing in the 30s was to repurpose the flour sacks into Dresden Plates.
I gave a stack of 24 to my cousin, I knew she would appreciate the sentimentality, and actually quilt it.  I will be perfectly honest, I hate, loathe and despise making quilts.  I know, I love sewing, but quilting is boring to me.  I think they're gorgeous, truly, but I would much rather buy one from Pottery Barn and spend my time making clothing or home décor.  For some reason, 2D bores me, 3D makes me all giddy.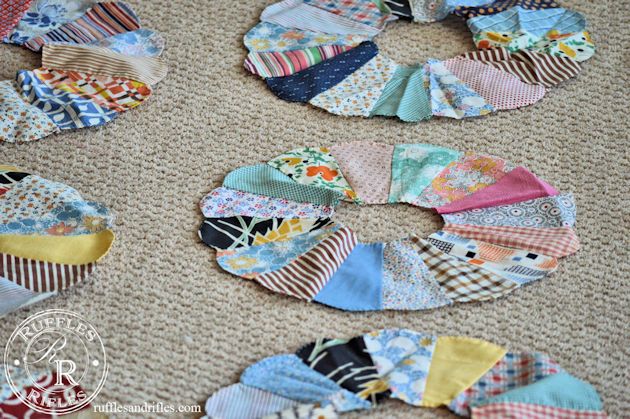 But when I'm sitting inside on a cold wet day, with no sewing machine around, I can continue the history of these quilt pieces and applique them on some fabric and complete what was once started, in the days where repurposing wasn't envogue but essential to life.  I look at the pieces and think about what was going on as they were stitched together, were they listening to the radio, hearing of a crazy war developing in Europe?  Did she have little girls she was teaching the art of hand stitching?  What were her thoughts and prayers as the pieces of flour sack were skillfully and carefully mapped together as a forever etch in time?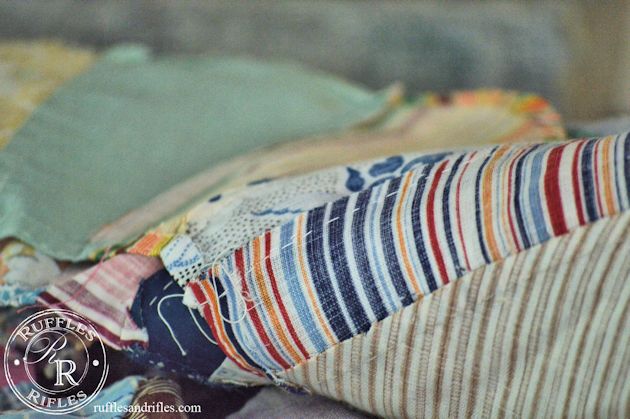 I know it will take me several years at best, but I am excited to start the completion of this piece of my family's history.
Thanks for stopping by!