It has been a LONG time since I've restored a piece of furniture.  As in a year and a half.  A lot played into that, but I am delighted to say, I'm back!  Now that we are faced with the heart of winter, I don't know if I'll tackle any more large pieces before things thaw out, but it sure did feel good to get my hands and inspiration back into furniture.  And this piece is different than any piece I've done before, which made it so much fun to execute.
So I found this sewing desk at Thrifter's Rock about 6 weeks ago.  It was sturdy, about 90% real wood, but I could see past the 70s facade.  So I picked it up for $30, believing that it would be the first step towards making my sewing room more of what I wanted it to be.
Can you believe I even watermarked that picture?  I forgot to take a proper before photo, again.  I always get excited and jump in and forget to take the ugly before shot.  So at least my phone captured the before state.
I have been fortunate, in that ever since we've been married, I've had a space to sew.  It's never been fancy, but it's been a space that I can be creative, and leave creative messes and come back to.  I cannot say how grateful I have been.  At one point I shared my space with the laundry room, and even ran an alterations business out of it, and it was great.
But the creative person inside of me, the one who loves beauty and is further inspired by beauty, has always had a plan for someday in my creative studio/sewing room.  I guess that someday started when I brought home the little 70s sewing desk home.  I quickly took out the large 70s laminate table that had graced my sewing machine these last 13 years and brought in the little desk.  And almost immediately, I had inspiration.  I have always wanted the sophisticated black and white in my sewing room and then I also started thinking about the days of old.  The days when sewing machines were beautiful, when black and gold graced those old treadle machines, delicate flowers and beautiful designs on those old iron work horses.  Women were inspired by beautiful machines as they created more beauty.  And that's when I decided, my machine may not be beautiful (though I have a loving affection towards it), but I can make the desk it sits upon, full of beauty and inspiration!
So I took the basket weave off the front drawer, bought new black bail drawer pulls from Amazon, and painted it with Miss Mustard Seed's Typewriter.  I think I have loved every desk I've ever seen in Typewriter.  Its a matte black, that has a vintage sophistication and air to accomplish something great in life, in my humble opinion.  The top I stripped with a sander and refinished in Minwax's Provincial and sealed it with Miss Mustard Seed's Hemp Oil.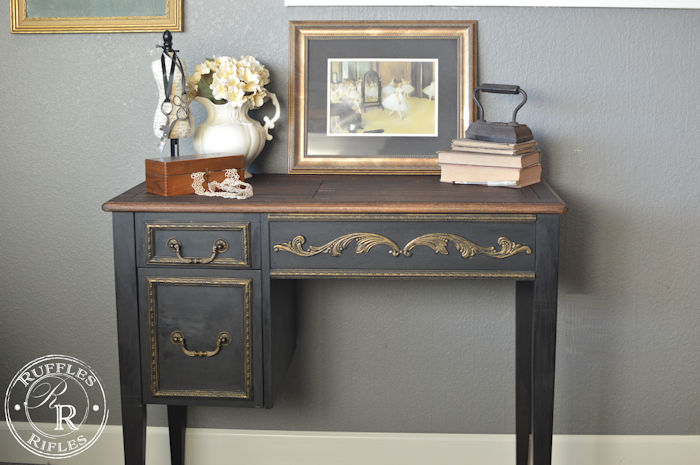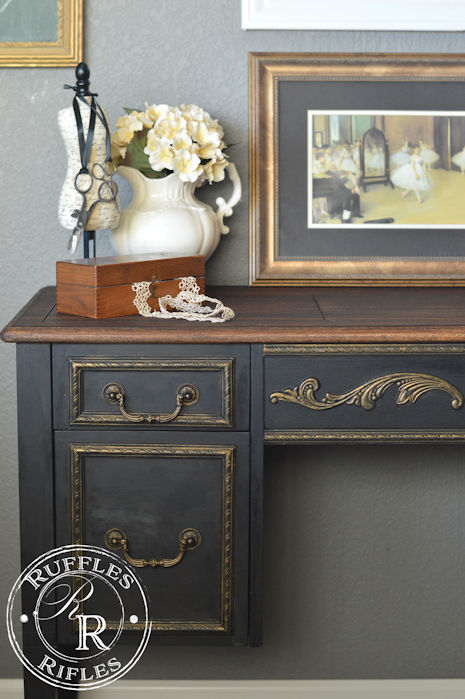 Then with my husband's help, I replaced the basket weave with a piece of thin plywood and some wood appliques from Home Depot.  My husband helped cut the rope trim I purchased from Lowes with mitered corners to add a bit of french country detail, and to lose the mid-century persona it carried.  I know, some may ask, why start with a mid-century piece when I don't like it?  And here's the answer.  I live in Alaska.  We have very few pieces of furniture that date prior to the mid-century, because we became a state in the mid-century.  So unless you happen upon a piece at the right time and place, and are willing to pay an arm an a leg, remaking the look, is the most profitable way to get around that problem.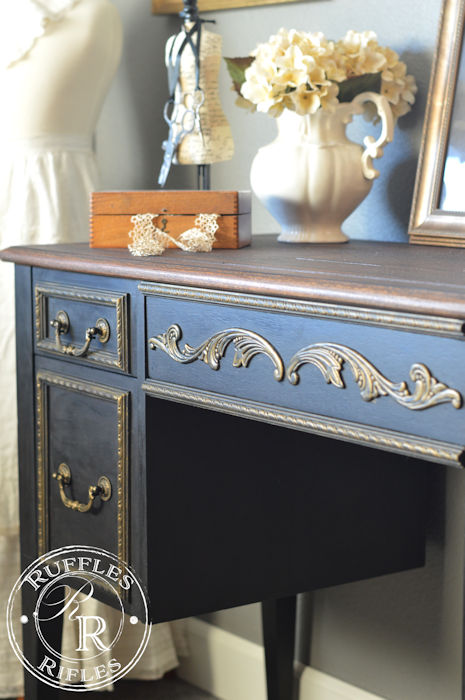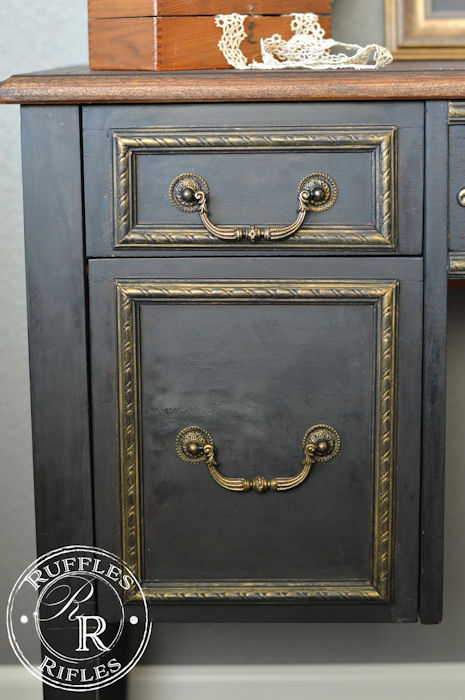 After I painted it all Typewriter, I was ready for the accent that was inspired by the sewing machines of old.  I took some acrylic antique gold and dry brushed over the raised wood appliques, the rope trim, and the black bail pulls.  Then I finished it all off with two coats of Miss Mustard Seed's Furniture Wax.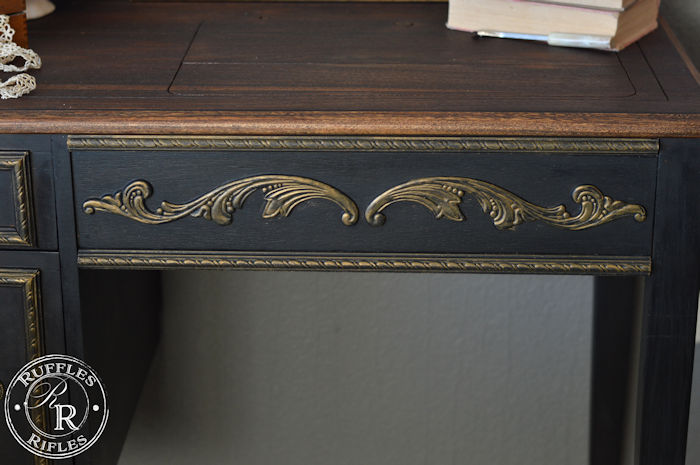 The insides of the drawers I had fun with as well.  I had an old vintage pattern which all the lines on the tissue paper had completely faded away.  So I used the pattern's instruction pages and decoupaged them inside the drawers for a fun little detail.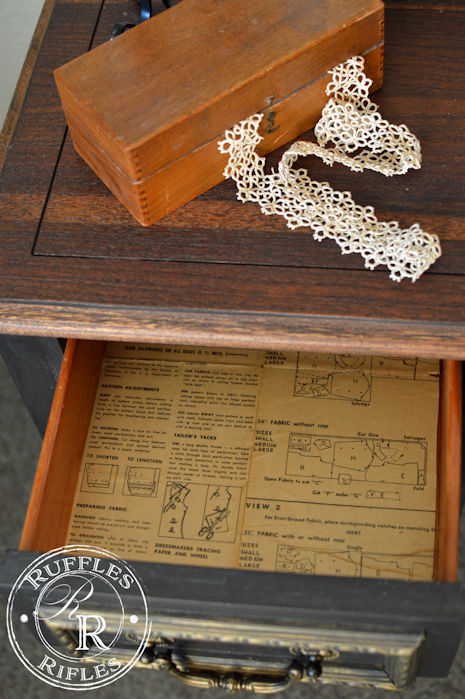 Obviously, the photo is staged with pretties not normally present with a modern sewing machine, but you all know what a sewing machine looks like.  It was fun gathering pieces for this shoot, an antique iron from my grandma, a vintage Dritz tracing wheel made of bone I found at Thrifters Rock, antique scissors from my family, and some tatted lace and thread I have from family as well.  I also found the ballet print at Thrifters Rock for $1.50!  It has some water damage, but it spoke to me, I couldn't resist.  I bought it for my daughter's room, but I think it's perfect where it's at.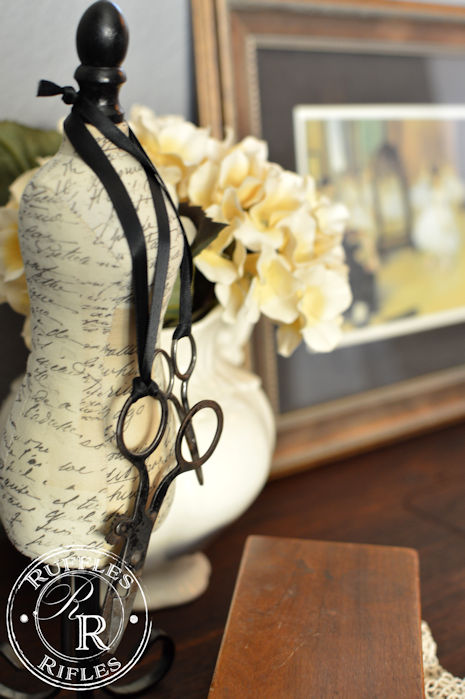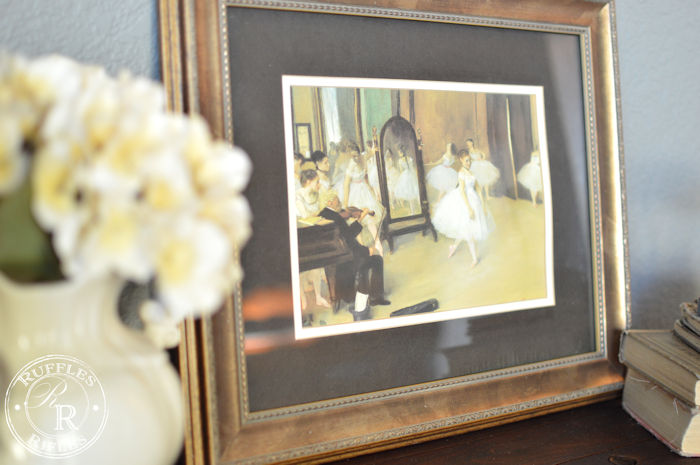 I couldn't be more pleased. Suddenly, with one piece of inspiration, my whole creative space is coming to life.  It's funny, but I love being in that room all the more.  Inspiring beauty inspires more beauty.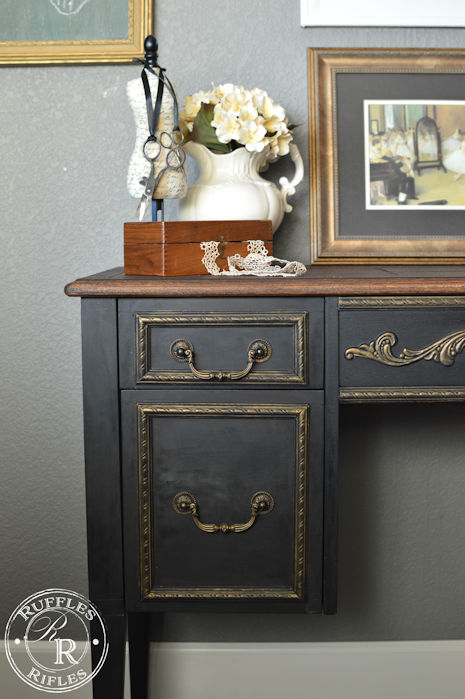 Thanks for stopping by!  I hope this brings a little inspiration your way.
Cheryl
P.S.  If you like what you see here, please share and don't forget to sign up for subscriptions to the blog.
Sharing with: