Hello everyone, and Happy March!  I was so happy to be driving my kids to school in light at 8 am this morning!  We are making progress.  And our unusually warm winter keeps beckoning us to believe spring is just around the corner.  We shall see!  But at any rate, I have several projects I am working away at, one of which being a tutorial for the The Coffee Table That Became a Tufted Ottoman.  That post since January has easily become my most popular post, and I have had numerous requests for a tutorial.  It is coming, hopefully in three or four weeks.
Today, I have an entryway solution we finally came up with after living here for nearly seven years!  Our house was built in the late 70s.  Like many built in that era (including the 80s), our entryway is a small landing split level entry.  Whoever came up with that idea, obviously didn't have a family.  Just saying.  Trying to cram more than two people in there at once to get ready to face the elements is cramped, at best.  So then trying to imagine all six people's stuff in the same place as a drop off zone, it can be scary!  Especially since we have no other entrance, like a garage, or mudroom.  Our front entrance is it.  And, we live in a climate where it's customary to remove all footwear at the door.  The entryway can soon become a madhouse of who's-who's and you're lucky to get out the door with a matching pair of boots or shoes.  (I once discovered our five year old came to church with one size 11 and one size 4 Bogs boot on.  Kinda funny. I chose to laugh in that instance.)
The disorganization and chaos has long been a place of frustration in our home, and trying to find a solution has been elusive.  That is until after Christmas when my husband (yes this blog post is entirely credited to him) came up with the brilliant idea of going to Lowes and looking for a solution.  It was there that he pointed out the ladder shelf and asked, "do you think that would work?"  The more I thought about it, the more I thought it was a good idea.  Because yes it may look like a shoe tower in our entry way, but practically speaking the height in between the shelves would allow room for the number of boots we employ at our house.  And there are more shelves than the shoe shelf we previously had which didn't do much except allow for an elaborate game of mix and match shoes, or toss your boots on any empty space on the floor, making a muddy mess of melted snow and mud.
I wish we had more photos of before moving in 7 years ago.  It was classic 70s, to say the least.  My husband tried to sell that light on craigslist.  Funny thing, it ended up in the dumpster.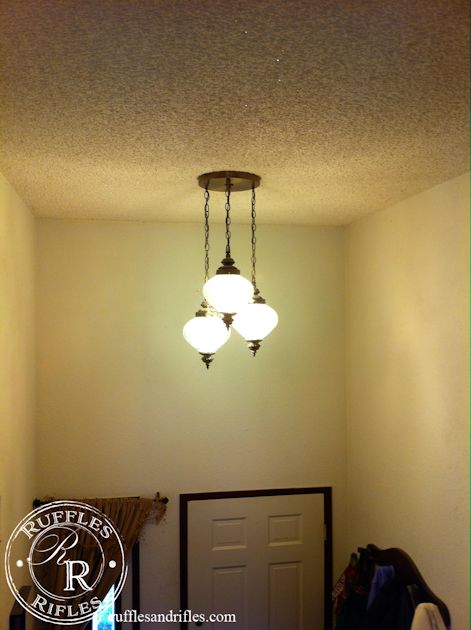 My husband and cousin put in tile, initially.  Since then, we've replaced the light, painted the walls a light grey, replaced the trim, changed the curtain, and then my husband replaced the cracking tile last year with cap and tread from The Home Depot.  It has become much improved.
And with the addition of the shoe tower and two plastic boot trays to house dripping and melting or muddy boots, I have to say, for the first time, our entryway has stayed completely organized for the last two months.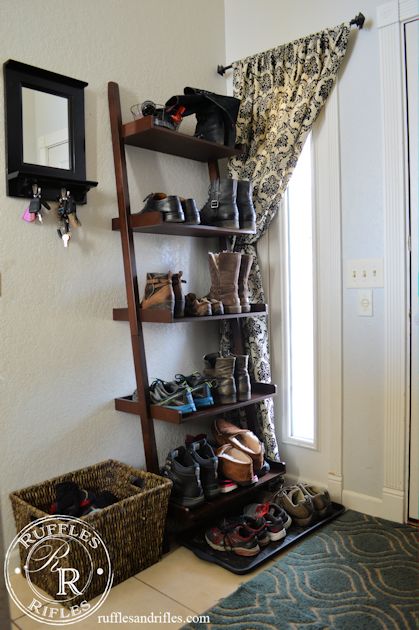 The basket to the left of the shelves holds miscellaneous winter gear, including but not limited to gloves and hats.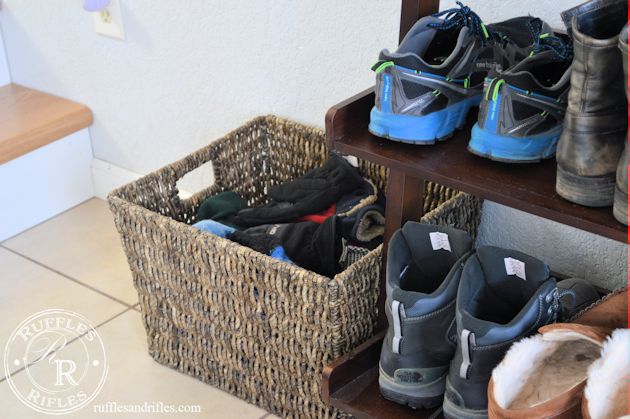 The other side of the entry way has and adult and child-sized coat hooks and an additional boot tray.
On the top shelf there is a little basket holding sticky lint rollers and shoe polish to look just right as you head out the door.
My favorite part of the entryway is less practical in nature.  It is the photo gallery that escorts people as they go up the stairs.  This fall we had our family photos professionally taken, many by our nearby train-tracks, so I played on the train theme a bit and featured some pieces of an antique Lionel train set from my husband's side of the family.
In our next home, our entryway will expand by about 7 times the size(I don't know the exact amount, but it is substantially bigger).  I already have plans for it, and I will be playing up the vintage train theme even more.  I can't wait to share more about that this summer!
Thanks again for stopping by!
Blessings,
Cheryl
Sources:
Ladder Shelf – Lowes
Basket full of winter gear – Lowes
Boot Trays – Lowes
Chandelier – Lowes
Rugs – Costco
Curtain – Fred Meyer (a Kroger store)
Kids Coat Rack – Target
Sharing with: