Our trip to California, as I mentioned last week, was amazingly wonderful and refreshing, and, it ruined me.  Usually I come home from a winter retreat energized and ready to take on the rest of winter, and I must say, this year, it had quite the contrary affect on me.  I don't know if it's because I'm getting older, and am just more aware of the reality, or if it's been such a mild winter that it doesn't look like winter (we haven't had snow since November), and so I'm just ready to get on with it.  Or if the flowers and warmth and fresh avocados just shocked me into the reality that something other than winter exists somewhere.
I usually don't decorate for spring until April.  That's normally when our snow melts, we call it breakup, not spring, because everything melts and breaks up and it is officially mud season.  Our first leaves on the birch trees appear at the beginning of May.  So, yes, we are a long ways off.  But, that did not deter me from bringing a few touches of spring into the confines of my house.  I needed changed, I needed springs of life.
Two days after we got home, I found some decently priced fresh flowers (which are hard to come by here as well), so I thought to myself, this would help in my acclimation back to winter.  I love fresh flowers, I would love to have them accompany my house on a regular basis, but the cost and the fact that they are already a week old when they get to Alaska make them a very impractical décor option for the most part.
In grasping for spring and flowers, I hoped a bouquet would suffice my pre-seasonal appetite, but in reality, it was just the beginning.  The next day, I embarked on a trip to JoAnns, without any boys, and found a few other pieces to make subtle spring come to our house.  It's still too early for flowers like hydrangeas and nests with eggs and full on spring, I have to be somewhat realistic.  But a few buds of green, and okay, one spray of a faux cherry blossom…it just has eased the transiti0n a bit.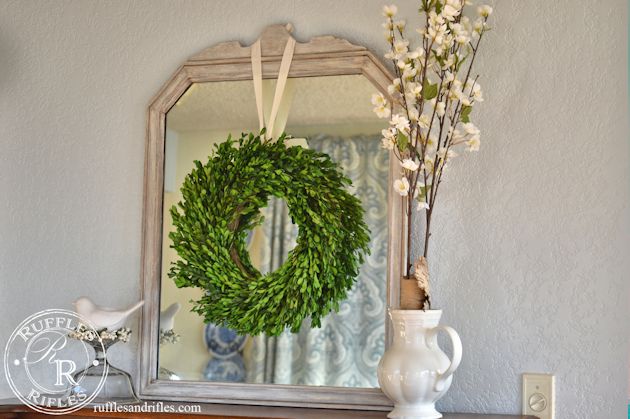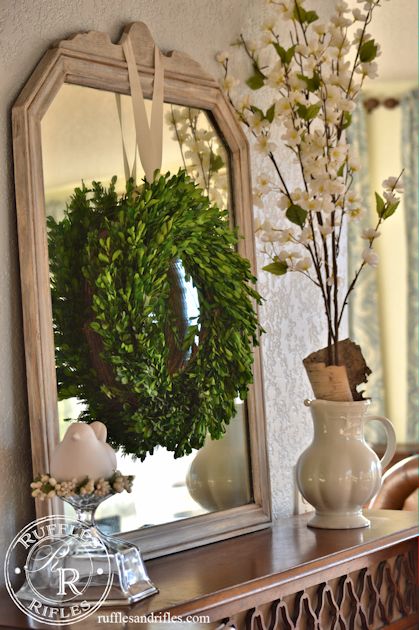 Most of the décor I already had, if you haven't noticed, home decorating can just be a great big creative game of mixing and matching, flipping and turning to see what else you can make of what you already have.  The bird above is perching on an upside down fluted bowl that housed pinecones in the last season.
I added a bird cage and hints of green to pieces above the china cabinet.
The shelf above my kitchen sink was brightened up by "new" thrifted blue transfer ware dish and an Anthropologie cup filled with boxwood.
On the secretary desk I removed wintery décor, but left the twinkly lighted twigs and just added a sprig of something budding green.  I don't know what it is, but I like it.  I looks like new life.
And remaining true to the our season in Alaska, my five year old and I went outside and cut pussy willows.  I feel like pussy willows are an invitation to spring.  I put them in a new thrifted basket on our fireplace.  Our fireplace is small and right under a window, so it's tricky to decorate with the right proportions, but I'm pleased with this vignette.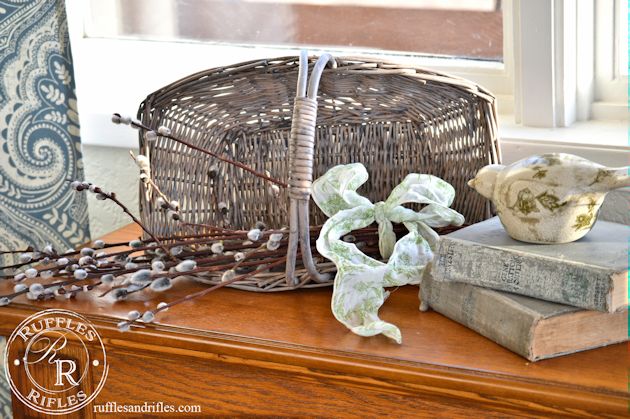 There will be more spring coming, but for now, I'm just inviting the hints of change to come.  Thank you for stopping by!
Blessings,
Cheryl
This post was featured by:
Thursday Favorite Thins Blog Hop – The Reinvented Collection
Sharing with: