Finding Your Style: Designing a Master Bedroom
Over the years, I have had the opportunity to embark on some interior decorating endeavors.  It is one of my passions to marry beauty along with functionality — to create an ambiance that speaks beyond words.  But as with almost everything in life, even a natural gift and inclination to do something takes practice.  And practice, by nature, includes mistakes.  In that journey, I have learned some things along the way, and I would like to share some tools with you as you go about defining and refining your own style, the mistakes I made, and the vision I have for our new master bedroom.
Defining Mistakes of the Previous Master Bedroom
As most of us start out, with very little money, and used mis-matched furniture, finding your style is a bit of a sloth like journey in the jungle of design.  Now, with the help of Pinterest, Instagram, and countless magazines and HGTV shows, we are given more opportunity to see what is out there, and to see what we gravitate towards.  The problem now may not be finding what I do like, but refining it, so that it isn't a great big, obnoxious conglomeration of mis-matched jumbled up stuff, like a toddler's fashion sense.
So while our main living spaces have had the most emphasis with décor over the years, our master bedroom took a back seat.  Not because it's not important, it's just when you have a very limited budget, it seems more logical to spend the money you do have on the space that everyone will be in the most.  I started making a more concerted effort towards our master bedroom about 6 years ago.
Inspiration can come from virtually anywhere.   For me, inspiration for our master bedroom was a peacock I had seen at the San Diego Zoo.  I don't recall ever seeing that bird until I did seven years ago (yes, I am an Alaskan girl).  But I fell in love with it's striking beauty.  Oddly enough, shortly thereafter, peacocks became a bit of a trend and I found this pillow at Target.  It was beyond my budget at the time (I think around $20), so I deemed it my Mother's Day present, and decided to design my room around that throw pillow as the inspiration.  I chose the color scheme with Valspar paint chips and pillow in hand.  I had a grand design drawn out.
Spa Pool by Valspar was the main color behind the headboard, I chose a mossy-green for the built in dresser with green glass knobs, also from Target.  The other walls would be a neutral tan.  We painted the whole (albeit very small room) one day, pushing everything to the middle and changed the room to the room of my — not dreams.  I knew, from the moment we were done it was all wrong.  The paint chips I had carried around for over a year were now spread out on the vertical expanse of our walls, and I did not like it.
The only think that I really did like were the two little lamps and peacock toile duvet covering the bed.  I originally made a duvet cover from a set of tan sheets (we were on a VERY limited budget.)  But about a year later, I found this peacock toile duvet from Pottery Barn and fell in love.  So I used all my birthday money and Christmas money combined to buy that duvet cover and pillow shams.  Some things are worth a splurge.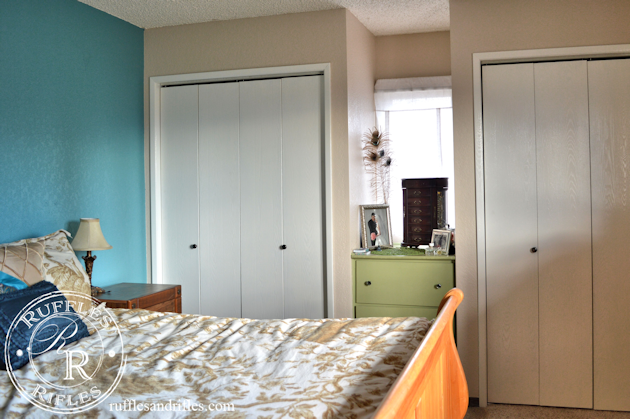 So what went wrong in my design endeavor?  Why did I never repaint the colorful peacock walls?  But most importantly, what did I learn from my decorating mistakes?  And how will I use the same design inspiration to create a different much more "me" master bedroom?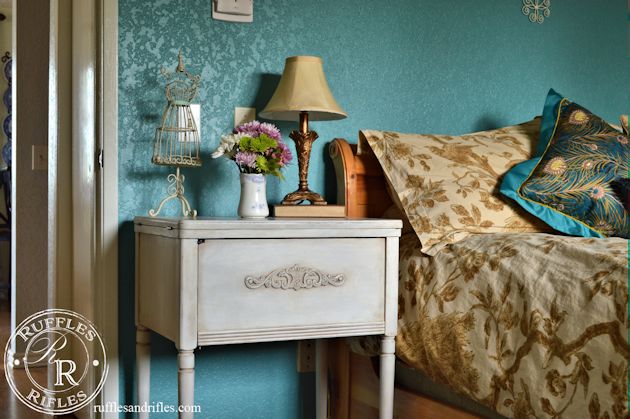 Defining and Refining Your Style
Beyond the trends, what colors/styles were you drawn to as a child/young adult?  I'm sure you have some interesting trends in the past to speak of, but when you get back to the purity of what you were drawn to as a child and young adult, chances are, it was your soul freely speaking before it was tainted by the marketing schemes of America.  For me, I always loved pale, soothing neutrals.  In high school my room had pale, pale pink walls and white eyelet bedspread, with lace and dried flowers hanging from the built-ins.  In college, I hung blue and white plates on the wall and had a blue and white check duvet cover.  Notice the Cheryl-trend?  Sure, I went through other phases (kitties and a forest green stint), but these I notice as consistencies in my décor.  When I was 19, I picked out my everyday dishes from a catalogue that are actually in my cupboards now.  I didn't notice until last year the correlation, "French Countryside" by Mikasa.  I had no idea I had a French Country inclination then.  I just knew I liked it.
Find your inspiration and then make it work with your style.  For me it was the peacock feather pillow.  Inspiration can come from virtually anywhere.  Something in nature, a meaningful thing or place to you or your family (like the railroad theme in our entryway), a set of dishes, a rug or curtain or accent pillow that grabs you, a photograph or painting, and etc.   Instagram and Pinterest are tremendous tools that can be a great springboard of inspiration.  Find out what you like, what speaks to you.  Where I went wrong was assuming a peacock had to be colorful and blingy.  What I didn't know is that a peacock could be interpreted a different way, not as colorful Art Deco, but a soothing French Country Style.
Know the difference between what you admire, appreciate, and like, and what speaks to you.  Because I thought peacocks in all their brilliance were beautiful (and they are), I forgot to take into account my own rhythm of style.  I like neutrals, not bright (accept as accents here and there every once in awhile).  I designed the room based on 1920s Art Deco style.  20s Art Deco and French Country are not the same, although both beautiful.  I had a similar problem when we were first married.  My amazing, thoughtful husband concluded that if I saw something and said, "I like that" that it meant "I want that."  I had to learn to say, "I like that, but not for me."  You can genuinely appreciate something and have the confidence to know it's not you.  The same could be said for this pom-pom pillow I wanted and made.  Once I made it, I realized it was way too Boho, and not me, though I admired it.  So I sent it to my sister in Australia, where it is admired as her favorite Boho pillow.
Use trends as accents, not anchor pieces.  Marketing trends prey on those who do not know their style.  They will entice you that the new is you, and if you don't know you, it is easy to succumb to the new.  I'm not saying ditch all trends, by any means.  But, if your style is based upon trends, you will desperately want to change it all in 2-5 years, which in turn will cost you a lot of money.  (Have you noticed how chevron was everywhere and now it has vanished like the Apocalypse?) So use those trends, those things that speak to you that are hot, hot, hot right now as small accents, like a throw pillow that can be thrown out in a couple of years.  I am convinced that if there is something you really like, it can be tweaked, conformed and refashioned, re-colored to be more classic and to your style.
Be cognizant of the space you are decorating.  Our previous master bedroom was by today's standards very small.  There was room for two upright dressers and a space to walk around our bed and that's all.  I knew painting the walls darker and brighter would be a risk.  And it definitely made the space seem smaller.  To make the room feel bigger everything should have been lighter.
If after a week, it isn't working for you, change it.  It's a good idea to give most design changes a week for you to adjust (especially for those of us who dislike change).  After a week, I knew I still didn't like the peacock paint colors, however I never changed it.  I could have, but I felt bad for "wasting" time and money, so I thought I'd just live with it.  Therefore, it was never a space I loved.
Redefining Our Master Bedroom
Since moving into our new house last May, I have had a fresh palette, so to speak in our Master Bedroom.  My inspiration remains the same.  I love the peacock, but in more subtle, restful neutrals. The Pottery Barn gold and ivory peacock duvet is the perfect compromise — it has peacocks and yet is in a French toile.   I found a headboard for our new king-sized bed on Craigslist the week after we moved in.  I painted it twice (in a very pregnant state), and still am not satisfied, so I will do it again.  I am also excited for the neutral, so I can change out accents seasonally and do some different pops of color.  On our recent trip to California, I bought an ivory king-sized quilt at Pottery Barn.  I have been wanting one for years, but shipping to Alaska is about half the cost of the purchase at best.  Therefore, packing as much in your suitcases is a shopping method for most strategic Alaskans.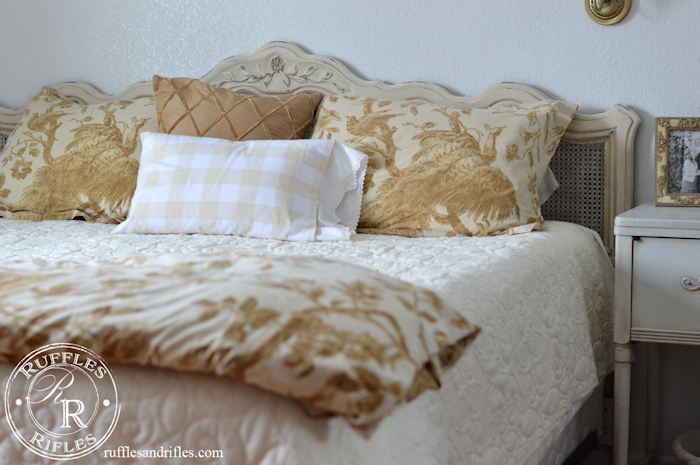 More than a before and after, this is a before and middle, if you will.  I have a lot to do in this room, but I am liking the over all feel so much better.  I have a list of things I need to do in our Master Bedroom:
1.  I need to make a neutral bed skirt.
2.  New sconces and a new light are in order.  They are both hideous and need changing with something a little more French Country.
3.  The wall behind the headboard lacks character.  I have different ideas — either a rustic faux brick accent wall (I think it needs texture), or a couple of architectural pieces, placed behind the sitting area and above the headboard.  I haven't fully decided on that yet.  Here is one idea:
4.  I would love a soft wool rug for my bare feet to land when I get out of bed.
5. I will re-paint the headboard for the third and (hopefully) last time.  I was never happy with the first layer of blue Shutter Grey peaking through.  When we got it was a speckled 70s gem, my husband actually called me when picking it up (a Craigslist find) to be sure it was what I wanted. Ha. I said, "don't you know I make beautiful things from ugly, outdated pieces?  All I need is the right shape and bones."  And this speaks French!
6.  I will either make new curtains or add to the gold, light-blocking ones I found from the thrift store.  They're the perfect color, they just need some pretty character added.  And in Alaskan summers, light-blocking is required for sleeping.  I am in love these curtains by Soft Surroundings, and they may just inspire me to make some anew: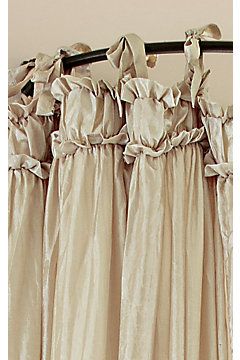 7.  Our closet doors are giant mirrors. I would love to paint and change the trim and add decorative trim to the top to make it look a little more French, like a trumeau mirror.
This trumeau mirror by Restoration Hardware is a show stopper — and out of my price range.  I will definitely be DIYing something along these lines:
8.  My sweet little vintage dresser may look okay in this photo, but the finish is in pretty rough shape and some of the old appliques are missing pieces, so I will most likely be painting it.
And as much as I would love to say it's all going to be done in the next 6 weeks, or even 6 months, the reality is, this will be a process.  And the way life is going these days with a baby and her four brothers, it will be a s-l-o-w process.
So, again, I'm going to embrace it.  Because after all, life is more about the process than the product.
If you want to Pin inspirational images that are not mine, please go to the original source.  Also, follow me along on Pinterest, for more inspiration in a plethora of categories on a daily basis.  Below is an image for you to Pin.
As you  may have noticed, the process has been slower to get posts out these days, however, I have been able to share shorter snippets on Instagram.  I would love for you to follow me on Instagram and stay connected there too.
Have you signed up for an email subscription to my blog yet?  Be sure to do that to be the first in the know and never miss a post!
Be inspired and blessed.  As always, if you have any questions, don't hesitate to ask away.
Cheryl