French Country Candlestick Makeover
My boys often groan when we pull into one thrift store's parking lot.  Truthfully, I try to meander through with as few little people in tow as possible.  I mean, I see their point; stinky, dirty, unloved garbage, and Mom is shopping in there?!?  But I tell them, "I'm treasure hunting, something in there could be a very economical piece paired with a little love and creativity to become something amazing."
On one of my thrift store adventures last fall, I picked up two candlesticks that were in good condition, but needed some love.  I could tell by the shape and the intricate carvings that they had the bones to become a quintessential French Country piece, with a tiny bit of elbow grease and a little creative love.  I am still very short on time these days, with an active baby who requires virtually no naps during the day.  So when I was craving a creative paint outlet last week, and something I knew I could complete relatively quickly, I dug these out of my cupboard.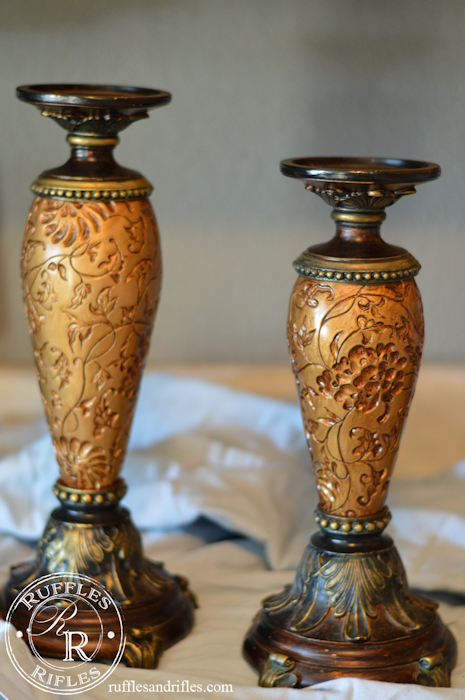 My son thought I should title this post "Ugly to Awesome" and while I agree with him, I didn't want ugly to be the first word my readers saw.  I am very pleased with the makeover, and equally as pleased with the price.  However, I thought introducing them as French Country Candlesticks may be a better description of my actual project.
For a room refresh, grand candlesticks can always make a big impact.  But these candlesticks were dark, drab and heavy. Not to mention, busy, there were a lot of different colors going on there.  So I used Annie Sloan Chalk Paint to make a dramatic change. I painted a couple of layers of Old White and had to work a bit to get in all the nooks and crannies.  This photo is after just one sloppy coat.
After the second coat dried overnight, I was ready for the real transformation by using the dry brush technique.  The dry brush technique is actually very easy, but one must have patience because it does take time.  I recommend using a chip brush, the uneven bristles make for a nice random smattering when the paint goes on.  All you do is barely, and I mean barely, dab the end of your brush in your paint, and paint it on a paper towel.  Then, after most of your paint is off your brush, you lightly go back and forth, creating light and random strokes on the thing your painting.  You can do this over and over for my coverage, or stop after the first application.  I love dry brushing with several colors, alluding to the French, aged look.
A thrifted item is a great thing to try it out on.  If it turns out amazing, you'll have a great piece.  And if not, you learned something and you can chuck with a disposable price tag.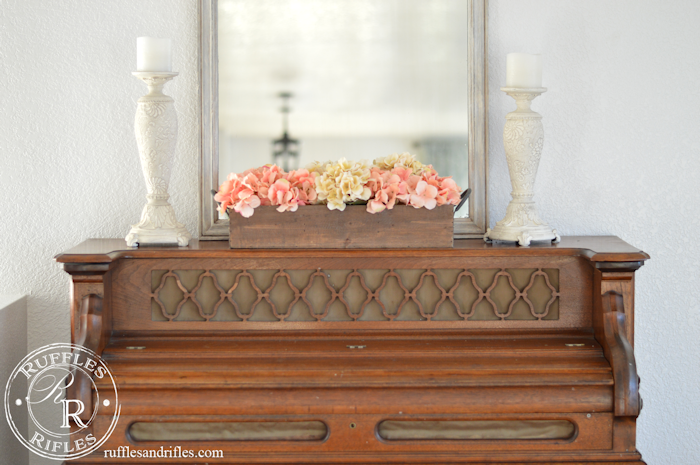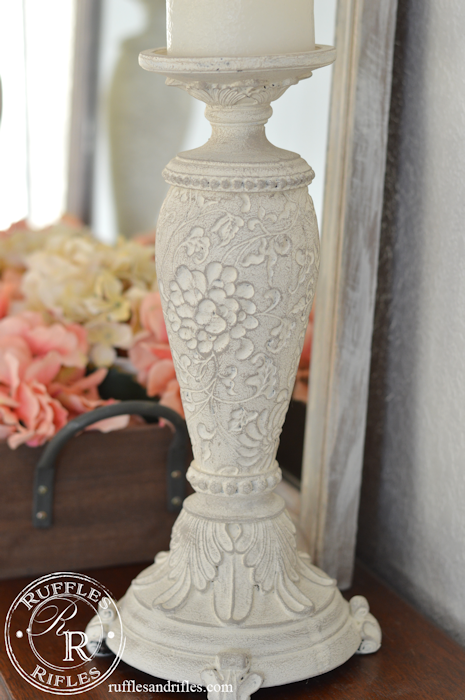 I kept the color scheme simple this time.  Old White was the base.  My first coat of dry brush was with Old Ochre, which is a beigish off-white.  It gave subtle dimension.  Then I took French Linen (which is a perfect greige) and dry brushed a couple coats over the top.  I simply love the dramatic makeover, and it was just the cost-effective refresh the old pump organ needed this spring.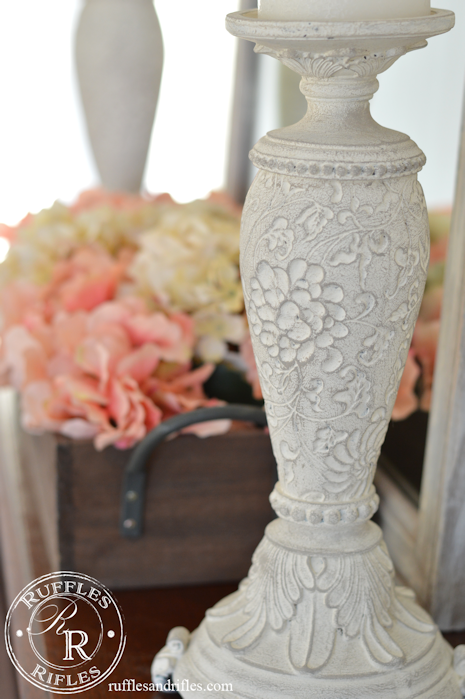 Since we don't have a fireplace, the antique pump organ has become my seasonal mantle so to speak.  I enjoy changing it out, refreshing the living room.  As you can see, I'm grasping for spring.  Oh, we still have a ton of snow, but thank goodness it's March and we also have a lot of bright sun.  Somehow, I feel like the sun gives me permission to wish for spring on the inside…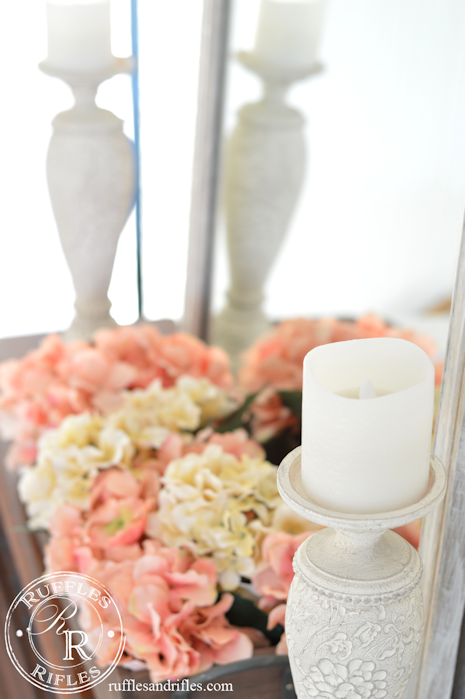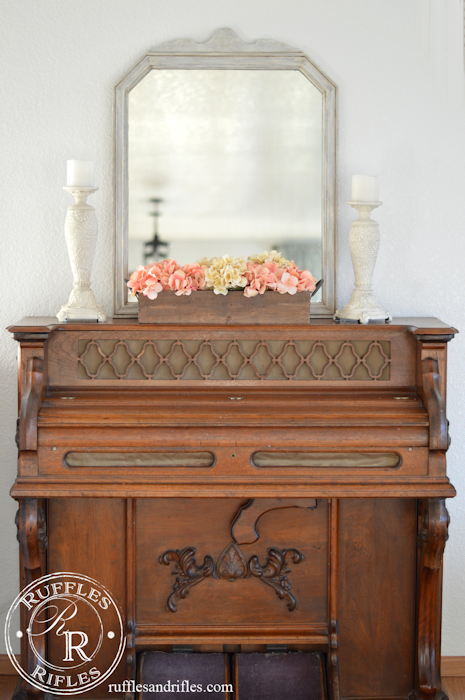 Thanks for stopping by!
Blessings,
Cheryl
This post was featured by:
Sharing with: