Hello everyone!  Thank you for joining me.  Today, I am sharing a quick little sewing/crafting project that you can implement into your "I can do that!" list.  I just want to let you know, that this or any of my posts are shareable via Pinterest, Facebook, Twitter, etc.  If you like what you see, or it encourages you, don't hesitate to share.  Thank you for joining me!  I always appreciate your comments and encouragement along the way in this new blog-adventure.
As I've mentioned before, I really like making aprons. They're relatively quick sewing projects that can be personalized in a number of different ways.  I love to give them as gifts.  Today I want to share with you another basic style (for the first basic Embellished Apron see here) that I dressed up with my contact-paper stencil method. (click here for a step by step tutorial on how to make a contact-paper stencil).
I used a stencil I made from contact paper over two years ago for this particular apron.  I found a picture somewhere on the web and printed it out, and "stencilized" it.   I had saved the sticky-back stencil, and of course it saved considerable time on this project where I didn't have to create and cut out the image.  I used plain old acrylic paint I had on hand and lightly dabbed the brush in paint and lightly stamped the fabric over and over.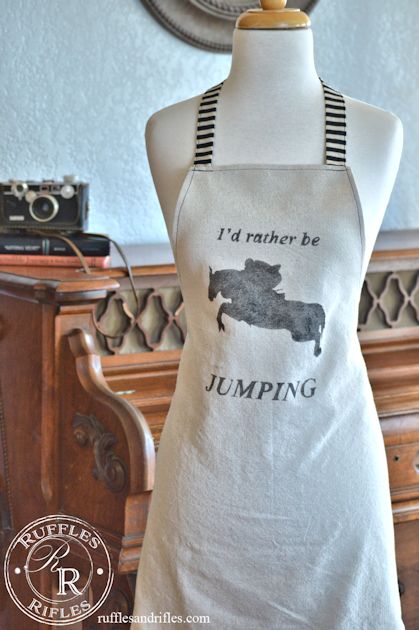 I completed this apron by laying a classic apron over a drop cloth and cutting with about an inch more for seam allowance around the edge.  I used contrasting black thread to finish the edges.  It just creates more eye appeal, especially when black and off white are the only colors.
I made the ties out of a coordinated cotton fabric I had on hand.  It is a lot easier to turn a skinny tie inside out if it is quilter's weight cotton, rather than a drop cloth or home décor fabric.
The paint will fade as it is washed, but it will give it the more vintage-faded look.  Again, if you don't want it to fade, try some fabric medium, (or fabric paint).  I just haven't ordered it yet or found it available in Alaska.
This is a great way to personalize and make a unique gift for anyone.  Imagination is your only limitation.  Some people would rather be jumping than doing almost anything.  I did not make this for me, this was a gift.  Funny how we're all so different, beautiful, complex combinations of passions, interests, and strengths.  I'm thankful we get to do life together.
Thanks again for stopping by!