My furniture posts are quickly becoming fewer and farther between.  We don't have a heated garage, and so living in Alaska, that greatly inhibits how much of the prep work I can do on furniture pieces that need a substantial makeover.  I tried stripping a night stand about a month ago in the 40 degree weather, and instead of the paint coming off, like oehy-gooey glue, the stripper flaked off like wax and most of the paint remained.  So, until next spring, there will be sparse spatterings of furniture posts, but I have plenty of other goodies to share.  (Let's just say I sew a lot more in the winter).
With that being said, today I am pleased to share with you a piece of furniture I finished a couple months ago as a late birthday present for my brother.  It was a vision I had for well over a year, but sometimes in the land of creative opportunity, one must wait for a substantial amount of time to create the dream within the heart.  It wasn't an extravagant vision by any means, however, I had pictured an all-wood coffee table that I could re-finish as a gift but, I didn't want to spend much more than $10, not that my brother isn't worth it.   It's just that when you're re-finishing a small piece, and put in the cost of supplies and time, it can quickly get out of hand.  So, for about a year, I looked for a small coffee table for around $10 to fulfill my vision.  Finally, I happened upon this sturdy solid pine table at a thrift store.  It was in good shape where the bones were concerned.  The drawer was dove-tailed, and it was stable.  Cosmetically it was beat up, but that was no problem.
My brother is an attorney, and has an insatiable appetite for history, and travel.  To this point, he is a bachelor, and so, it may go without saying, he needs a little help with the decorating.  No offense, but, while he loves the finer things when it comes to ambiance, he will never get there on his own.
My vision for the table was a dark stain on top (I used Minwax Provincial) with a white and navy union jack.  I wanted to use non-traditional colors.  I used a pearl white milk paint I had on hand, and then used Miss Mustard Seed's Artissimo, which is a rich deep navy blue for the center stripes and the base of the table.  I love this blue!  While I am naturally drawn towards neutrals and pastels, this is so rich and alluring, I am extremely pleased with the end result.
I used the bonding agent as the original stain was orange and I didn't want chipping orange contrasting with the dark stained top.  I very subtly sanded the edges and there is bits of wood coming through, but not enough to notice a difference in color.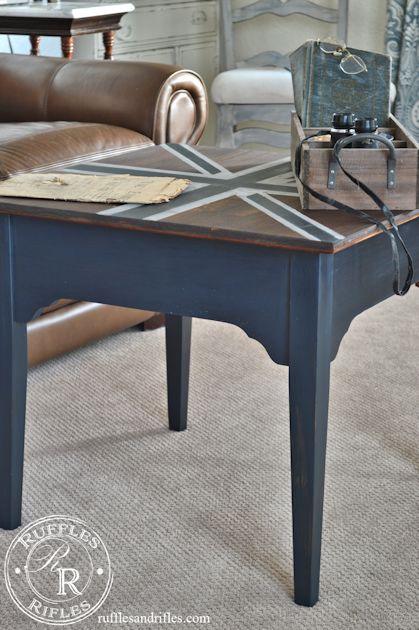 I staged the coffee table in our living room for the sake of lighting and decent photos. It made me realize how much I want a coffee table there.  (Much to my pleasure, the day after this photoshoot, I found a coffee table at a thrift store, in need of a makeover.  It is sitting in our living room, a reality "before" picture glairing at me everyday until I get a chance to work on it.)
I sealed the milk paint with MMS Hemp Oil.  I love the finish of milk paint on furniture.  It looks partly stained, partly painted as it soaks in more than most paints which just sit on top. And the finish to milk paint is gloriously smooth.  That's it for now.
Thank you for stopping by!
This post was featured by:
French Country Cottage
From My Front Porch to Yours
Sharing with: