The Littlest Boy's Room Reveal
It occurred to me that besides the main living areas and our little entryway, I have not shared the rest of the house — meaning the bedrooms.  There are several reasons for this.  They're very tiny, built in the 70s and barely have room for the basics, and trying to wedge a tripod to some vantage point is challenging.   The second reason is they're dark, also making it difficult to photograph.  And the third reason is, in the world of blogging, they hardly seem blog-worthy.  They're still at what I would consider the beginning to middle stages of process, and since we are moving to a different house later this spring, investing a lot more effort into the tiny, dark spaces is not high on the priority list.
When our number four boy came along a little over two years ago, we needed another room.  We already had three boys crammed in a room.  And that left two options, either convert my sewing/craft room to a tiny room, or use my husband's small study.  We went with the latter option.  And being a mom, I couldn't welcome my baby to a shabby, dingy outdate office with no closet and a water-softener in the corner!  The room had it's challenges.  But I had a lot of fun creating this tiny room.  And though I am not thrilled with how the photographs turned out due to lighting and being such a tiny space, I think some of the creativity is worth sharing.
I was inspired to do a bicycle/tricycle theme (before they were in all the stores) because I found two little tricycles at a garage sale.  I made one into this lamp which I shared when I made over the Industrial Nightstand.  I spray painted the tricycle with Krylon's Oil Rubbed Bronze, and took apart another lamp.  My husband helped me construct the lamp, drilling holes and gluing.  I glued the chevron fabric I also used for the curtains on an existing lampshade.  This was my statement and main inspiration piece from which the rest of the room was built upon.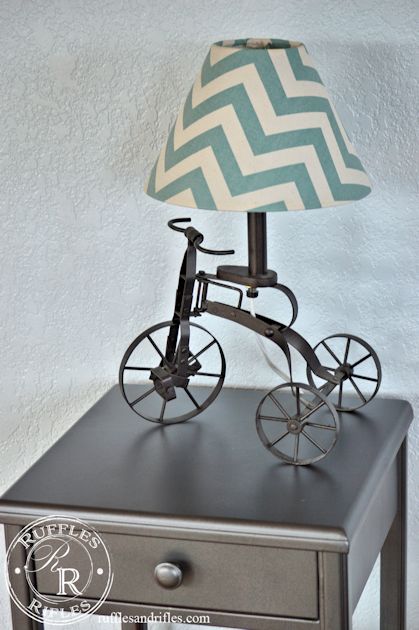 The curtains were simply a décor piece to hide the shades.  I didn't want valences, so I came up with the idea to do the top in cheveron and the bottom in muslin.  I made three of them and was pleased with the result.  I also took my paint brush to a lot of details.  The little tangerine frame was a clearance frame at Target (I think it was pink) and I used a latex sample I had on hand as an accent color in the whole room.  The little wooden blocks I found at a thrift store and I repainted them white, teal, tangerine and grey rather than the existing primary colors.
We had to get an armoire as there was no closet in this room, and with as fast as babies change sizes, I wanted a storage facility in the room.  Also, I place to hide Costco sized boxes of diapers and wipes.  The teddy and wagon are vintage toys, they were my dad's.
The little box shelf was another garage sale makeover, with the coordinating paints I had on hand.  I had a scrap left of the chevron and stapled that to the back, and spray painted my other garage sale tricycle to match the lamp.
Remember how I mentioned the water-softener?  That's where this screen comes in to hide unsightly appliances.  This was a dark wood screen that we had, it was a little beat up.  I spray painted it white the year before but didn't like the stark white contrast to all the off-white I had in the room, so I took some mocha burnishing paste from the Milk Paint Company which aged it to perfection.
The cradle and antique porcelain doll are a bit girlie, I know.  But they're vintage, and the boys don't bother them for now, and so I just leave it there because it's vintage.  The cradle was my mine as a girl, my grandpa made it for me, and I painted it several years ago.  The doll was from some distant great-great aunt in the family.  I seems like no one wanted her because her legs were put on backwards.  And I don't care, I think she is charming.
Then there's the changing table.  We bought that for $10 at a garage sale 10 years ago for my first son!  Besides the crib, it has been the most used piece of nursery furniture.  I use that rather than a dresser, and have baskets organized with diapers, butt paste, socks, pajamas, and size appropriate clothing.  It has worked really well over the years.  When we bought it, it was white.  My hubby painted it a light tan to go with our first light oak crib.  Then before number four I spray painted it ivory.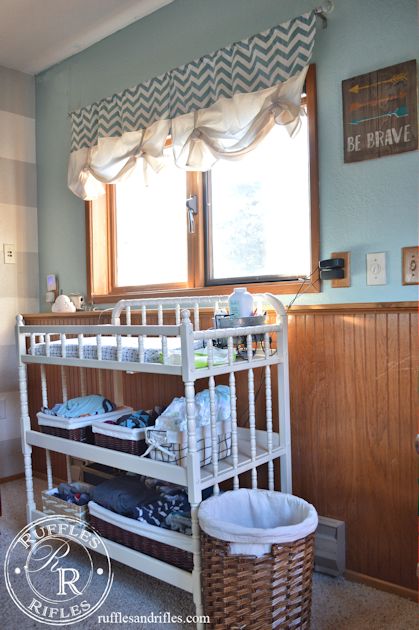 I found the little metal wagon at JoAnns two years ago.  Kinda adds character and continuity to the subtle bicycle theme, I think.
I love this sign.  My husband actually gave it to me for Christmas, but the colors are perfect for the Littlest's room!  And, God was speaking several verses to us about arrows when I was pregnant with him.  So it seems appropriate to share with him.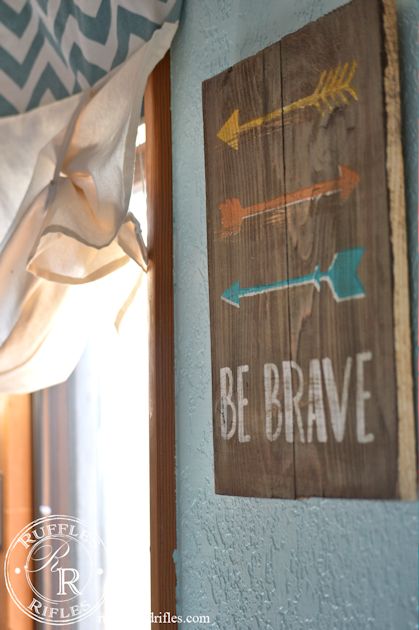 And last but not least there is the crib.  Our first crib had a casualty as my husband was leaning over putting boy number three to bed, so we had to get a new crib.  I knew I wanted a Jenny Lind, but do you know how hard they are to come by in Alaska?  I looked for 9 months and never found one on Craigslist!  Finally we broke down and bought one from Amazon,  and paid $100 in shipping!  Good thing they're like the cheapest cribs out there!  I wanted it ivory too, but by the time we had it ordered and assembled, he was 6 months old (moved out of our room from the little bassinet), and there was no way I could paint it at that point.
I found the bicycle fabric on fabric.com and made a crib sheet.  They are super easy to make and fun for original crib sheets, if you care about that sort of thing.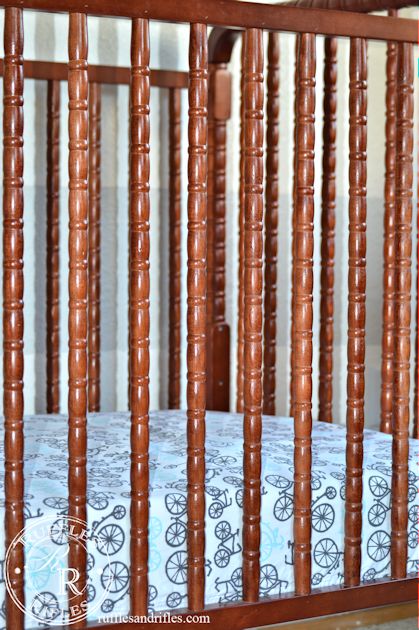 The fuzzy teal blanket I made, and bought the fabric from a local quilt shop.  All my boys have a fuzzy baby blanket, and I was running out of options for a pre-made blanket of a different color on boy #4.
And the little vintage boy outfits hanging above the crib were also my dad's.  I don't regularly keep them there, my now two-year-old could reach them.  But I've been envisioning them hanging there so I thought I would at least for a photo shoot.  I have nothing hanging above the crib, because of Alaskan earthquakes.  (My husband says I'm paranoid), but that last 7.2 quake we had knocked one thing off the shelf, and if there was something big or heavy that came tumbling down on a sleeping babe, it wouldn't be good.
So I did the stripe feature wall, for at least a point of interest.
So, that's the littlest boy's room reveal.  Hope you enjoyed it, it sure was fun putting the room together.  I know men don't get it, there is no practical reason to decorate a baby room. It's called instinct, and there's no way around it!
Thanks for stopping by!
Blessings,
Cheryl
Sharing with:
Seeking Lavender Lanehttps://www.seekinglavenderlane.com