A One Horse Open Sleigh and How My Great-Grandma Saved Christmas
First off, I just want to thank you again for your encouragement.  All the comments after my last post, you guys blew me away.  Thank you!  It's truly such an incredible blessing to be able to use my gifts and see it bless others.  Thank you for the love, the shares, comments, likes and subscriptions.
My house is dressed up for Christmas, however, we've had the weirdest, darkest, warmest, rainy weather, and I am just waiting for a break in the clouds to be able to do several photo shoots.  Hopefully it will be before Christmas, otherwise, you'll see it next year I guess.  But we'll think positively.  Snow for Christmas would be the preference, my four-year-old was quite distraught that it had all gone away.
I did get a few photos of the organ dressed for Christmas before the clouds set in.  I didn't know how I was going to decorate the old pump organ this year; its my veritable mantle since we have no fireplace.  Sometimes I have a plan, and sometimes things just evolve.  This year, I had no plan, but I was done with the glitter wreath that had hung there for many years.  As I was decorating the built in shelves, I placed that vintage leather horse on the organ, just because I wanted it safe and out of the way.  Then I began imagining him with a sleigh, pulling a tree, and jingle bells accompanying the scene!  I didn't know whether my vision would be magical or cheesy, but I would never know unless I tried.
I went back to the thrift store I had been at the day before, because I thought I had seen some sleighs.  This was the only one left, and I didn't know if it would work, but I figured for $5, it was my only chance.  I brought it home, and "dashing through the snow, in a one horse open sleigh" came trotting through my living room.  The little artificial tree was actually on its way to the dumpster this year, as the base completely broke, it was the perfect repurpose for a disheveled tree.  I stood back, completely tickled by this new arrangement, an arrangement that was brought together completely by thrifted items over the years (you can see the original mirror here and the candlesticks here).
As I stood back, and looked at the one horse pulling the tree, I started reminiscing, about adventures of bringing home the Christmas tree.  It can go without saying, the pinnacle of American Christmas décor is the tree.  I do my best to put priorities straight, I bring out the kids' nativity first every year, and we talk about the real meaning of Christmas.  Yet, everyone knows, including my 4-year-old, Christmas isn't set up, until the tree is up.
In years gone by, the effort of getting the tree was a memory maker in itself.  Now, we have a pre-lit artificial tree.  I'll admit to being sentimental about looking for a live Christmas tree, and drinking in the glorious pine smell as the tree is brought in, while green needles leave a trail behind.  I have many memories; in deep snow, with a broken ski, and there was the year my dad and my siblings were charged by a moose, (that's for another time).  However, one of my most cherished Christmas tree memories, were brought in part by my dear Great-Grandmother.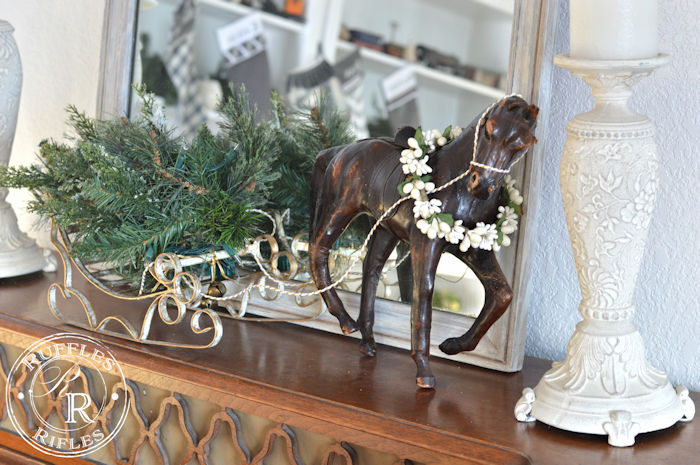 I was eleven-years-old, and at the time, we were living out of our element, in the city for two years while my dad attended seminary.  Because my dad was in school, and working part-time, money was tight.  A very generous person from our church offered us a tree from their small lot for free, and we brought it home.  We were incredibly grateful.  But the minute it was brought in, I remember being sad (think Sadness from Inside Out).  The tree wasn't noble and stiff, like Christmas trees I had known, it was beautiful and bushy, but couldn't bare the weight of lights, let alone ornaments.  But I wasn't the only one who was sad, all my siblings were sad, and we were a bit lost and alone with city life, and things just felt a little out of sorts, a little off (I think I could have been a case study for Inside Out, actually).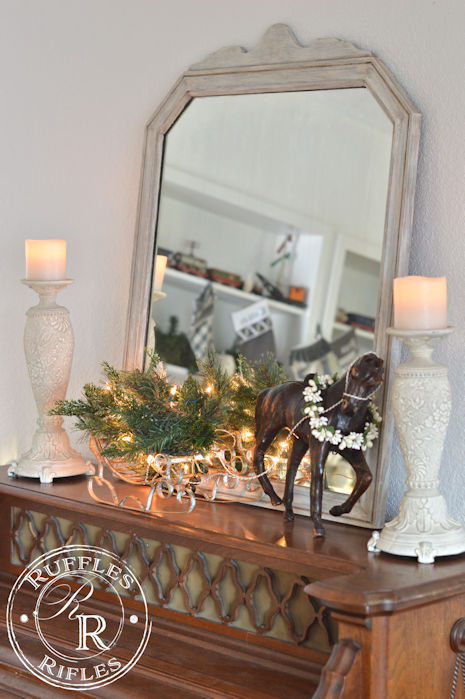 That's when my mom offered an amazing solution.  "What if we take the money Great-Grandma sent us for Christmas and find another tree?"  My siblings and I jumped at the idea!  It wasn't a lot, it was about $5 per person, which would have amounted to $30, but it was enough to find another tree.  So we piled into our Celebrity Station Wagon, and went to a tree farm my mom had heard about.  As an eleven-year-old, I didn't know the toll the city had taken on the country bumpkins.  We started driving, beyond the stop lights, beyond the neighborhoods, and into wide open spaces, where there was green and quiet.  I remember literally feeling like I could breathe.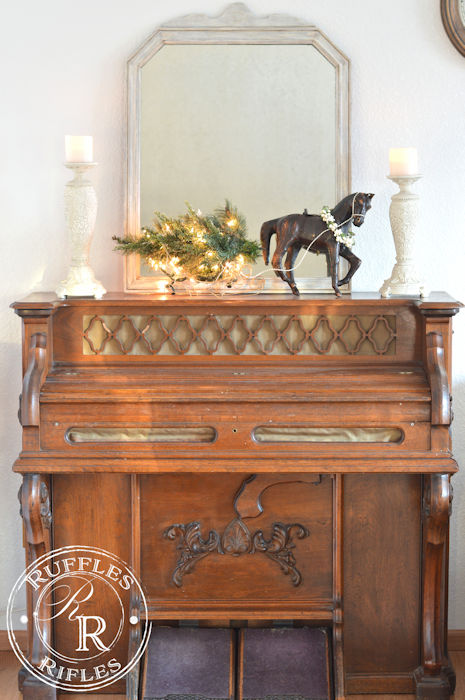 Then I remember finding the one, the tree.  Standing grand, and noble, it was a Noble Fir, after all.  But it was beautiful, and sturdy enough to hold lights and ornaments, and the trunk was fat enough to stand on its own. While we felt country breath enter back into our lungs mingled with the sweet scent of pine, and fill our souls with silence, the Christmas magic began.  We didn't have to drag the monstrous Oregon tree because a horse draw sleigh (on wheels of course), came and picked up that newly downed tree.
It's funny how something so little as a country tree farm and a one horse open sleigh could minister to a soul, but it did.  A cup of hot chocolate was offered as they tied the green pinnacle to the top of our station wagon, and we walked back to our car, full of gratefulness and joy.
I will never forget that Christmas, and the gift of my Great-Grandmother.  In my eleven-year-old memory, her small gift saved Christmas that year.  Not only did we get a perfect tree that stood tall and proud into our vaulted living room, but it was the gift to country folk in the city, getting a chance for our souls to breathe.  In the midst of being out of our element, and my dad studying and working long hours, in the midst of living in not the nicest neighborhoods, we had a chance to remember who we were and that hard things aren't forever.  Sometimes, the smallest of gifts leave the biggest impact and memory of things gone right in a world that seems tumbled upside down.  As always, we had so much to be thankful for.
Do you have a memory of a small gift that made a large impact and a beautiful memory?
I hope you are having a Merry Christmas season, thanks for stopping by.
Cheryl
Sharing with: