Inspiration is the beginning of all creative design.  The majority of my inspiration in sewing comes from historical costume.  I love the details of the tucks, ruffles, lines and precise fittings of the past.  However, I love the particular challenge of creating something unique and one of a kind for or inspired by a particular person.  Its an art of reading someone's tastes and how they perceive beauty and then watching that vision unfold.
There is someone who has inspired me, encouraged me, and went out of her way to bless me.  I am forever grateful.  This apron is entirely inspired by her.
This amazing woman loves blue and white, French country décor, checked fabric, and she has this thing for cows.  I decided to implement all of these qualities in an apron.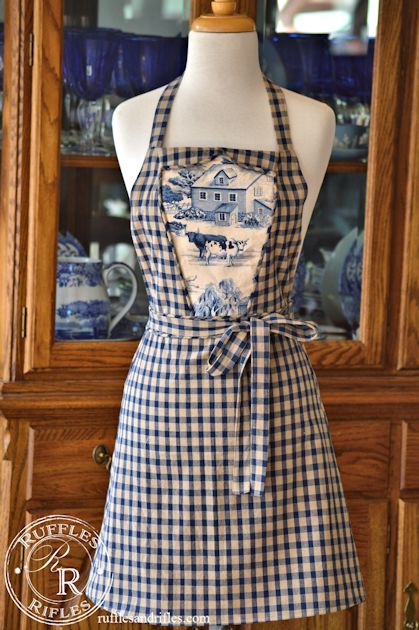 I had seen a little dress made up in a French pattern on Sewing in No Man's Land.  I thought the inspiration of an authentic French pattern would be appropriate to reveal a toile country scene with cows, framed all in blue and white checks.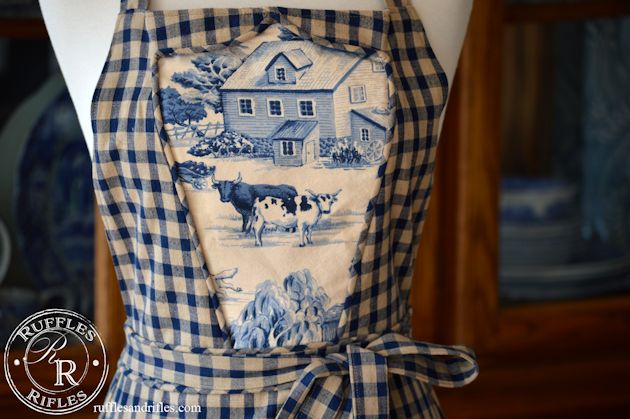 I ordered the toile from fabric.com, with the design in mind.  And I had previously found about a yard off this blue check at a thrift store.  My idea was coming to life.  When the toile arrived, however, the ivory background was much lighter than the antique off white in the check pattern.  I had an idea — tea stain dye. I dyed the toile in tea stain for about half an hour to darken the ivory a bit.  I was thrilled when it came out a much better match for the checks.
The bodice part of the pattern I developed from looking at a picture from Sewing in No Man's Land, and the skirt portion of the apron I used from the other patterns I have drafted this year.
I added in piping around the waist, just to tie in the whole look.  And I made ties for the neck and waist to keep it a country design and still adjustable.
I can imagine this pattern in an array of other fabrics.  But I think the original Marian inspiration will always be my favorite.
She is an amazing woman, and I hope she knows the gratitude I feel for all the inspiration and encouragement she has freely given.
Thanks once again for stopping by. Have a blessed day!