Joy Found In A Winter's Scene
When the end of November rolls around, the anticipation of decorating and celebrating the most wonderful time of the year beckons and calls. I may have listened to some occasional Christmas music, or strolled through the seasonal aisles at the stores, but finally the day after Thanksgiving the Christmas decorations are unpacked from the shed and brought in to delight onlookers as rooms are transformed from ordinary to festive.
On our organ this year, I decided to invite a white wooded winter's scene, made from a recycled boxwood wreath and a garland from our wedding, pinecones gathered from outside, a cake plate from my husband's grandma, and a Nativity scene from Israel.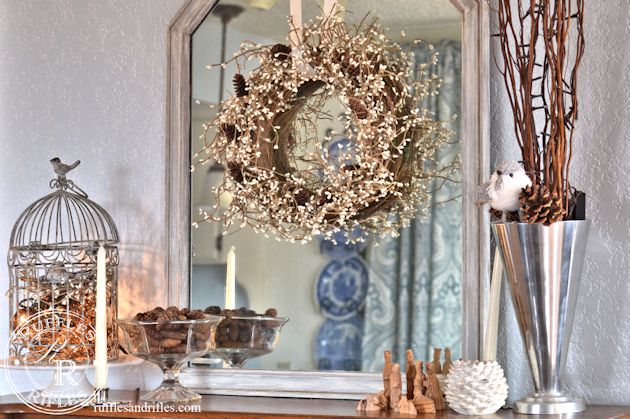 The irony of the scene is subtle, coordinating rustic nature with woody browns and snowy whites. But there, wrapped in the midst of a cold, snowy winter scene is a story carved from olivewood that was accompanied by palm trees in Israel over two thousand years ago.
As much as glittering "Merry and Bright" signs beg to be purchased and displayed, and bold letters gleam JOY and PEACE, the turbulence in the world and our lives never magically changes amidst the glitz and glamour the commercial holiday promises. It's almost as if people are being groomed to come and adore a season of the year, rather than a Savior. Like we are being seduced to taste an elusive, short-sighted peace and joy suppressing the deep need that every soul longs for.
From the nativity stage a lone voice calls out, "And there were shepherds living out in the fields nearby, keeping watch over their flocks at night. An angel of the Lord appeared to them, and the glory of the Lord shone around them and they were terrified. But the angel said to them, 'Do not be afraid. I bring you good news of great joy, which shall be for all the people.'"
The good news that was announced to young shepherds that night was the only thing in all of life that can bring true fulfillment to the promise of joy. Shepherds, living their lives with natural ups and downs, were suddenly stunned into the reality that the Emmanuel – God with us, promised 700 years before came to change their lives in a stable not very far away.
The good news of great joy, it is hidden. Hidden amidst the glitter and lights, hidden behind the story of a jolly bearded man in a red suit, bundled in the midst of winter's white storms, masked by the multitudes of parties and gifts. But anyone over the age of 10 can testify, Christmas itself cannot produce lasting joy.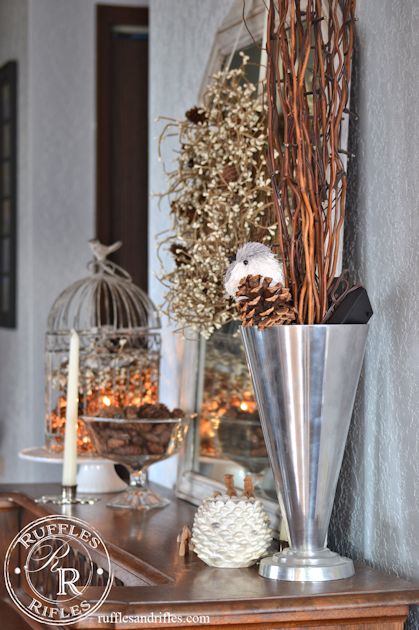 When I was in college, a small group of friends and myself would go down to a complex of low income apartments where immigrants were starting a new life of promised hope in America. Once a week, we would knock on doors of familiar faces and gather the children who were eager to play games, receive hugs, and hear stories of a God who loved them. The week before I left for Christmas break, the kids were all excited and feeling the effects of sugar. I saw a girl quietly standing, watching all that was going on. I walked near her, "Do you know the story of Baby Jesus?" I asked. Her deep brown eyes complimented by her beauty at the age of twelve, spoke of a life known to pain. She shook her head, eyes glazed with tears that dared to hope for a story that could change it all.
And so I told her a story I could recite as well as my own. A story that irrevocably impacts our modern winter celebrations with a living hope. Jesus, the son of God, born to a virgin, became a man and dwelt among us. He was full of glory, grace, and truth. He came to save, and heal, and deliver, to bring light to the darkness. He came to die and rise again, so that he would overcome death, for anyone who would believe.
This is the good news of great joy. That the Word of the Father spoken 700 years earlier by the prophet Isaiah was now in flesh appearing to shepherds, fisherman, prostitutes, Pharisees, teachers, tax collectors, and children. He came near so that we could know love like never before. He came so that we could hear his voice and be freed from a life of sin and shame. He came that we could see light and truth and know how to walk and live. He came that we could feel true compassion and be healed of pain. He came so we could experience a relationship with the God of the universe, the only place where we can find true peace and great joy.
My hope is that this Christmas you experience this great joy!
Blessings,
Cheryl
Sharing with: