For the Love of Blue and White – A Christmas Tablescape
We had another great and busy weekend going to parties, time with family, getting ready for Christmas, shopping, wrapping gifts, and just enjoying the excitement of four little men anticipating all the activity of the season.  Such a joy!
Last Christmas we had the privilege of hosting a Christmas staff party for my husband's company, Set Free Alaska.  We could have used plastic "china" — and make it look good, but, I have such pretty dishes, and I wanted to pamper and bless the staff that pours out their lives for people everyday.  We had about 20 people over, and since my collection is running from over the years, I had the opportunity to make a tablescape, with the love of blue and white.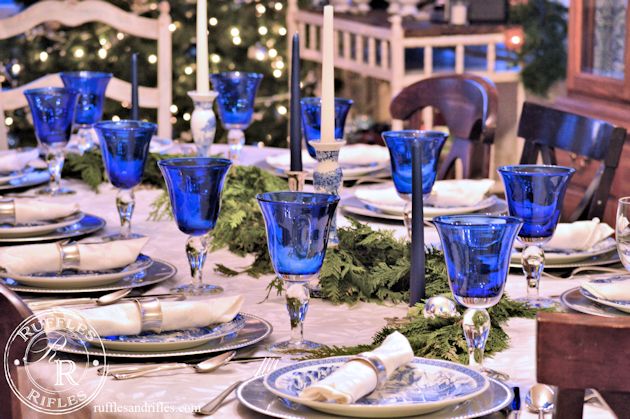 I got the blue goblets as a wedding gift.  I remember registering for 6 of them, and when our friend blessed us with ten, I thought, "when will I ever use 10 of them?!"  I'm thankful she had more fore-sight than me!  I use them ALL. Then last year, I found 8 more of a slightly smaller size at a thrift store that coordinate exactly!  I used them all and was thrilled to use real, beautiful dishes and goblets.
I always have so much fun creating tablescapes, usually with what I have on hand.  I decided to go simple and buy a cedar garland and use the candles I had on hand, and let the blue and white set the tone.  The scene made me all giddy on the inside.
Over the years I've collected items for table settings when things go on clearance after Christmas.  I got the napkin rings at Target for at least half off and the chargers were from Bed Bath & Beyond for 50 cents each.
I forgot to take a picture, but you can see it in the background.  We had no buffet (it was before the Jelly Cupboard existed), but I wanted a drink station.  So I used the Jenny Lind changing table we have (and completely sanitized it) and put some reclaimed wood over the top for a table top.  I used the shelves underneath for additional cups and appetizing snacks like chocolate and spiced pecans.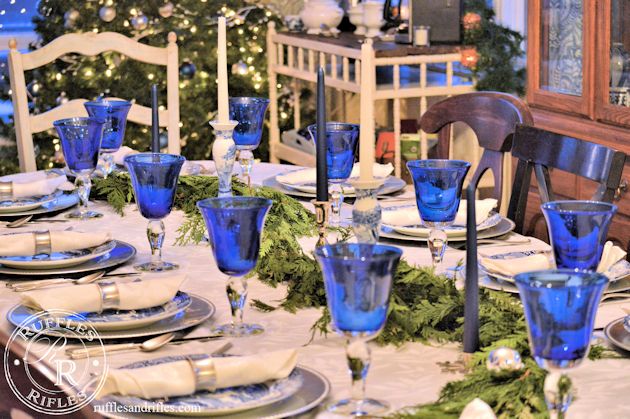 Thanks again for stopping by!
This post was featured by:
The Curator's Collection – Making the Broken Beautiful
Sharing with: