Furniture Reveal: A Little Coral Chair
This chair, I almost didn't photograph.  It seemed like such a little make-over.  Like I didn't put enough time and effort for it to be "blog worthy".  (And the photographs aren't great, but I am still pleading "very amateur photographer", it's all about the process, right?)
So my main purpose in sharing this, is that even the littlest tweaks in home decoration can make a huge impact.  This is probably the quickest and easiest change you can make with furniture, for very little money.  This makeover took only about an hour's time, plus a really quick run into JoAnn's (which was really quick because I had 4 boys along with me).
For Mother's Day this year, I decided to be unconventional (which is not unusual) and I took a chair of my mom's which I'm pretty sure has been the same since the day it was created back in 1970-something.  The chair is in incredible shape, the wood is perfect, and it is extremely sturdy.  But the upholstery has been bugging me for years.  She always had it covered with a pretty draped throw, but I knew I could fix it so easily.
I figured it was really time this year as my parents have started a Bed and Breakfast.   You know, hospitality is a gift, and my mom has that gift off the charts.  Just ask anyone who's been to their house for an hour or more.  You won't be able to wait for an invitation back.  With that gift of hospitality, comes an incredible ability to create a place of peace and warmth through colors and textures and themes.  Really, she is a decorating genius.  I think she could produce her own magazine.  And her table décor she does for significant meals, are artistically brilliant.  Maybe I can be like my mom someday.
Like I mentioned, this was a very easy restoration project.  I ripped off the ancient upholstery, and then used it as a pattern to cut the new fabric (in this case I only needed 3/4 of a yard), and stapled it to the bottom, making sure it was evenly stretched from East to West, North to South as I went.
So I brought the chair back to my parents, and where the room was completely amazing before, the chair just made the room pop.  So fun!  And so easy, I'm telling you, if you're nervous about reupholstering, these are the easiest chairs to start with, and they only cost $10-$25 second hand.
If you are coming to Alaska any time in the near future or just want to see their other rooms, check out their Woodland Glade 2 Bedroom Suite , or their Birch Grove Sanctuary studio apartment on Air B&B.  The studio apartment is also available on VRBO as Cozy Sanctuary Studio.  This summer is booking up fast.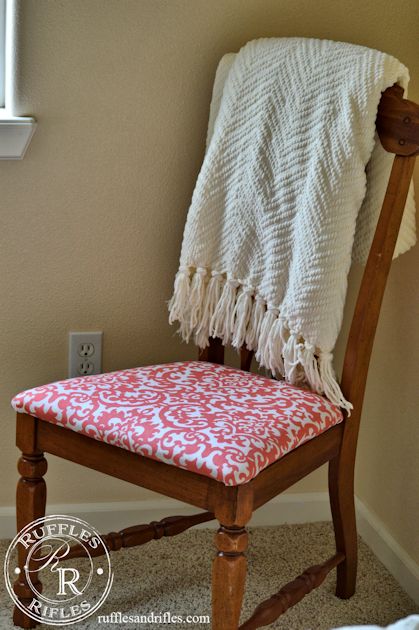 *This is not a sponsored post and all opinions are completely mine.