Furniture Reveal: The New Barstools
Most the time, as I hunt for furniture, I have to be extremely patient.  In Alaska we have a VERY limited selection of both used and new furniture.  I suppose if I wanted to pay top dollar at a fine furniture store (I think there might be one in Anchorage), I wouldn't have this problem, but then, I wouldn't get to be as creative with the pieces I get that usually need some love.
I have been on the look out for new barstools for years.  We bought two x-back French Country black barstools off craigslist about four years ago.  I loved them, and still do.  But we only had two of them.  So I found another random barstool that I painted black years ago, just because our family was growing, and two barstools wasn't going to cut it.  But I never loved the fact that they didn't exactly match.  The other thing I didn't love was they were so big, and my kitchen is on the small side.
A few weeks ago I was perusing my local thrift store and found 5 of these bar stools, which match and totally coordinate with my dining room chairs.  I snatched up the 3 that weren't broken.
Now, upholstered barstools are not ideal with little kids, but I had a plan.
My original plan was to make grain sack looking upholstery from paint and drop cloths and cover it with iron-on-vinyl, so it could be wiped off.  What worked in my mind became one of those lessons of process, yet again.  Because when it was sat upon, the fabric underneath stretched and left permanent puckers while the vinyl on top remain the same.  It looked awful.  So I went to plan B.  John Maxwell says that as long as we are learning from our mistakes, it is never a failure.  Life is full of learning, so I spent $20 on iron-on-vinyl, that's not the end of the world.
Taking these apart was like an archeology dig.  I stripped off the first layer of food-hardened upholstery only to discover, a second layer of food -coated upholstery.  After I removed the second later, I discovered the foam was completely disintegrated.  The barstools got a complete overhaul, new foam and batting as well as a fresh new outer layer.
My solution in light of the iron-on-vinyl experience, was to upholster them with some blue and ivory toile I had on hand, and make slip covers to be washed and washed again. I've washed them about once a week four the last four weeks.  I am so glad I did that!
I used the original painted-on drop cloths to make a set of slip covers because all it takes is a week (or an episode of blueberry yogurt) and they need to be thrown in the washer.  Because I didn't use any fabric medium, throwing them in the wash has faded them a bit, but, I'd rather a faded vintage look than upholstered barstools with finger prints fossilized in ketchup, yogurt and peanut butter.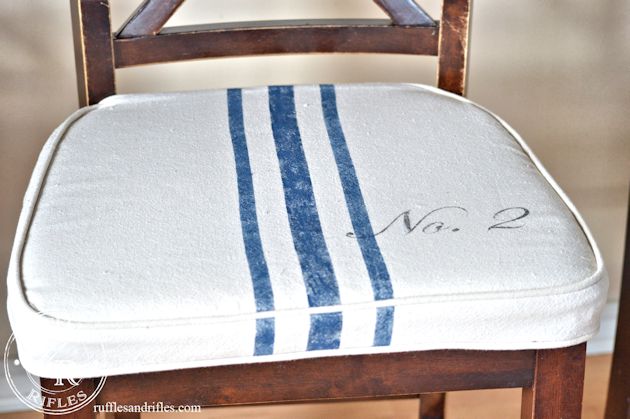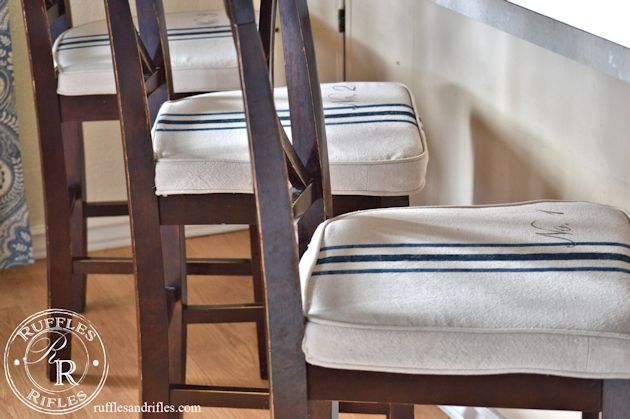 Over all, I am pleased with the result.  But as it is with DIY-always-on-the-lookout-for-something-that-will-work-better, I found another set I would like to buy from a friend.  But, I must sell these first. I haven't sold the original set of barstools either, so I think nine barstools would put me in the barstool hoarding category.
Upcoming, I will show you how I create the painted grain sack without any fancy shmancy machine.
As always, thank  you so much for stopping by!
* Barstools have been sold.
---
Linking with:  Miss Mustard Seed