I am always on the lookout for French style furniture to makeover.  In particular French chairs or settees.  I have also come to discover, I enjoy reupholstering even more than painting.  I've been looking for a pair of French chairs for over two years, but, I'm telling you, in Alaska they are very hard to come by (for $100 a pair or under)!  I've seen two different sets at two different times and of course missed them, but I will keep looking….sigh.
In the mean time, I will fix up what I find.  This little chair I found at my most frequented local thrift store.  It was backless, and therefore only $20 (which is a steal around these parts).  Since I've done several chairs now, that was an easy fix for me.
So I took the little French beauty home.  As I started stripping the upholstery I had recollections of my friend and neighbor having the same black and white upholstery in her house.  I took that off and discovered a layer of disgusting red velvet upholstery underneath.  Then I remembered years ago, my friend telling me that she had bought some red velvet chairs from an old establishment that went out of business.  So I snapped a photo and texted her, "did this used to be your chair?"  Sure enough.  Next time, we decided we didn't need the thrift store as the middle man, we could just do business straight across.
My first plan of action was to take the latex paint off.  It's hard to tell by the iPhone photo above, but it was painted with black and ivory all over, with squiggle etches throughout the paint.  I used a stripper and it came off in a couple of hours work. I loved the wood underneath, and really prefer chairs to be a dark stain rather than paint, but there were tiny holes on the back frame that just held on to the paint, so I knew I would need to paint it rather than refinish in a stain.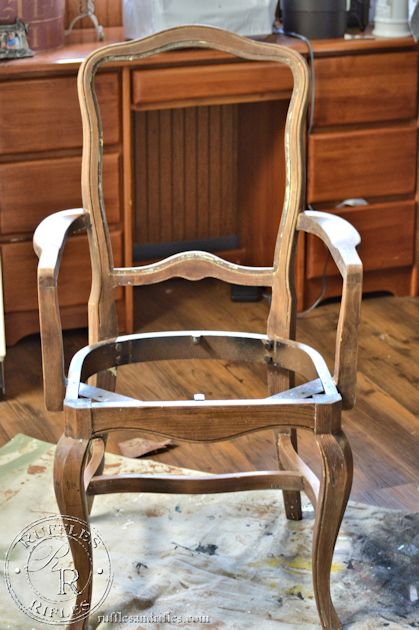 I did the French layered look with MMS Shutter Gray and Grainsack.  I used a furniture wax and then antiquing wax to get in the crevasses.  I love the effect of antiquing wax in the crevasses!  I was so pleased I finally had a piece to try it out on!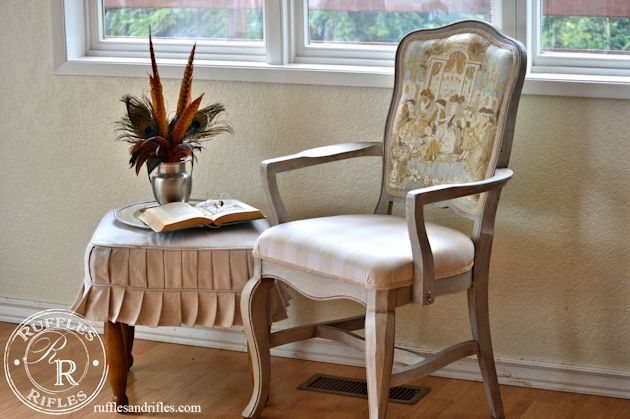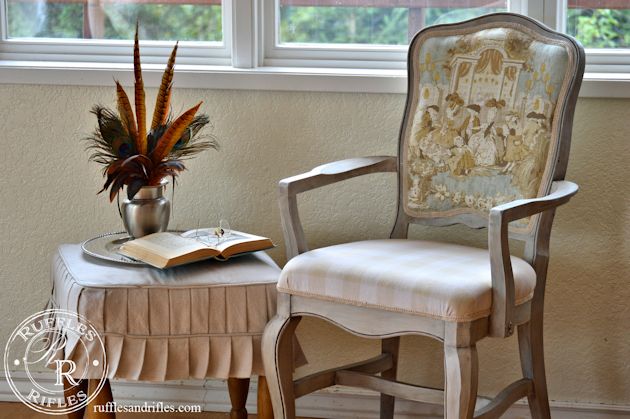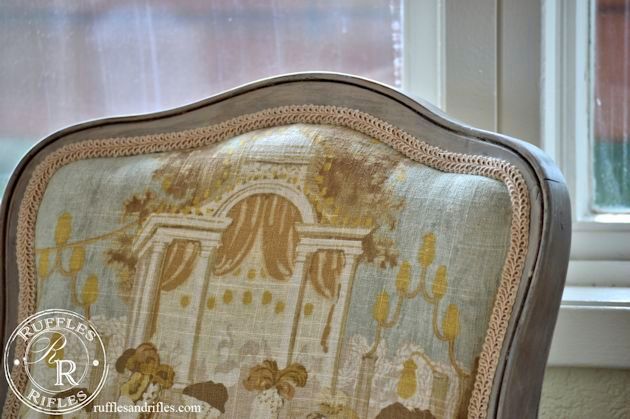 I went back and forth as far as how to upholster this little French chair.  I eventually want some European grainsack chairs, with a blue stripe, but I'd kinda like that on my pair — whenever I find them.  I knew this would be in my room which has a light gold and ivory Pottery Barn peacock toile duvet cover, I have a few peacock feathers and accents scattered around for splashes of color.  But for the most part I am drawn to pastels and neutrals.
I was going for a light blue and tan. I really wanted a more relaxed French country feel than a French provincial, and so I decided to coordinate with the check rather than do the toile on the seat and back.  I ordered a yard of this toile from JoAnns and a yard of tan buffalo check, and I crossed my fingers hoping they would coordinate.  You never know unless you order samples (which would have been nearly $20 with shipping), and even then, it's hard to tell on a 6″ swatch.  When the fabric came, it was more of a dusty mint green, but I LOVED the print!  So it will have to stay in my room now.
The buffalo check coordinated, but it was pure white and tan.  I didn't want to be paranoid about little hand prints or jeans that shared their dye, so I decided to do a short dye in tea stain dye to turn the white to off white.  And it worked, perfectly!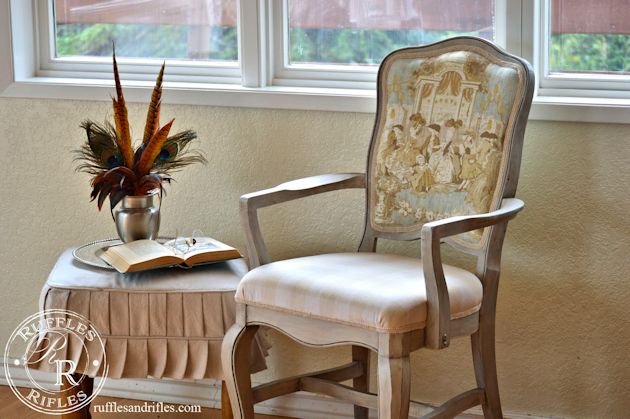 I'll admit, I am rather smitten with the chair now.
Thank you for stopping by!
This post was featured by:
The Curator's Collection – Making the Broken Beautiful Link Party
Sharing with:
The Scoop – Cedar Hill Farmhouse
Making the Broken Beautiful – The Curator's Collection