Our winter arrived this last week.  Six inches of snow graced us on Friday morning, delighting the children to play in the cold white sand of the arctic, and beckoning us to watch Home Alone and turn on the Christmas carols.  I refrained, for now anyhow, but we have definitely entered our longest season of the year.  But I wanted to continue with what I began and show you the continuation of our house dressed for fall.  If you missed Part 1 of the tour you can view that here.
It's always fun to decorate a new space.  As I explained in Part 1 though, I enjoy changing things up a little from year to year anyhow.  But having a new space makes it all the more exciting.
As you come up the stairs from our entryway, the little blue Jelly Cupboard gives a warm and friendly greeting.  I have her filled with miscellaneous serving ware that won't fit in my cupboards or china cabinet.  (Yes, I have a thing for pretty dishes).  This winter she will likely become a hot drink station once again, but in the mean time she mostly is our catch all.  So I adorned her with a simple fall piece in the corner.  A milk glass cake plate with a faux pumpkin, hydrangea and blue berries. A little bit of fall in blue and white to welcome you in.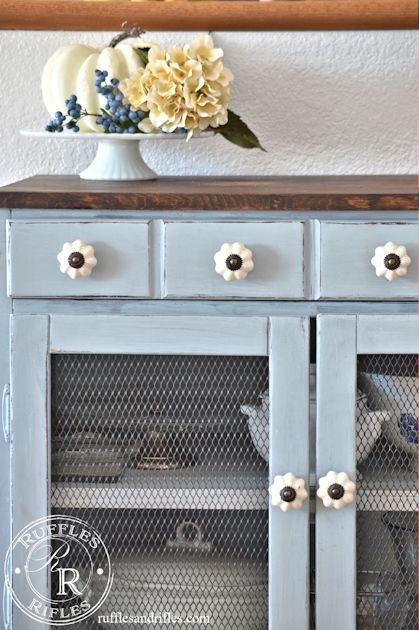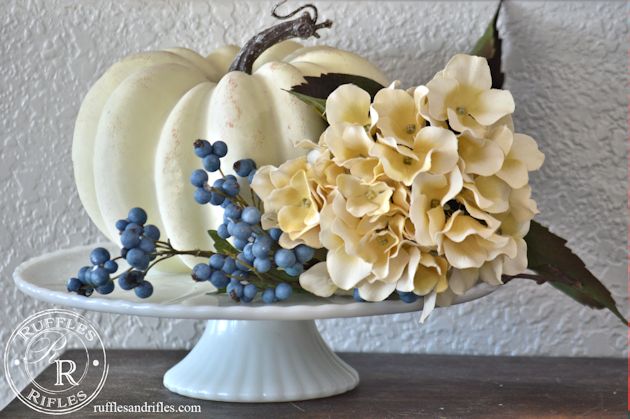 On our dining room table I bought a very inexpensive bouquet of fall inspired flowers and some berries.  I think the berries absolutely make it! I try to pick bouquets with longer lasting flowers so I can enjoy them for longer.  This bouquet has lasted over two weeks!  I keep pinecones in my linen closet to add a bit of rustic life to the more feminine touches.  And the pears I had grabbed out of the fridge, they provide a warm invitation to sit down at the table. My boys love pears, "Are these for decoration or to eat?"  Both!  I'm sure they wonder why more decorations aren't edible?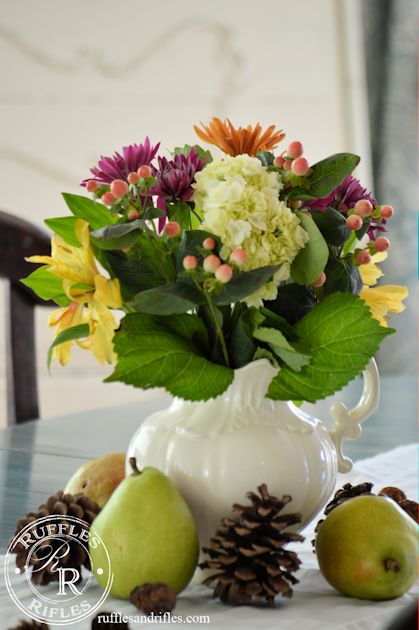 The yellow leaves on choke cherry tree in the background have since completely migrated to the grass below.  The background of gold has been transformed to long limbering sticks with a thick painting of white.
On the secretary desk I place a triad of gold-gilded pumpkins.  I usually like them a little more "real" looking, but I liked them with the gold frame above and the petite gold lamp to the side.  I little bit of French Country in the mix.
Thank you once again for stopping by!
Blessings,
Cheryl