Beaded Pillow From Repurposed Napkins
Two years ago, after Christmas, I did my annual, wander around Target to examine the red stickers and see if there was anything pretty begging to come home with me and save until the next holiday season.  I always seem to find a couple things to tuck away, along with wrapping paper, and lights.  But this time I spied these two napkins, in Christmas neutrals, white, gold and silver.  I looked at them, less than $1.50 each and decided that would make a very festive throw pillow.
At the time I bought the napkins I had a 2 month old baby, and I spent a lot of time sitting and nursing.  I came up with the grand idea of adding some bling to the otherwise striking napkin.  I had some gold beads on hand, and so as I sat feeding my little man multiple times a day, I worked on beading the little napkin.  I only got so far, as I found out, it's rather complicated to bead one handed.
But, this fall, I discovered how much I enjoy hand sewing in the evenings.  Sewing with the machine and creating gets my brain racing, and I have a hard time relaxing and going to sleep.  But if I hand sew, it just is mundane and soothing.  So I picked this project back up.  I finished the gold beading while watching a football game, and with my mom's eye helping me, we decided it needed silver beads too.  So I doubled the beading, but now it's so pretty.  I just randomly added beads wherever I thought the lines called for it.
I sewed the two napkins together and added an invisible zipper since it has a rather seasonal flare to it.  I like to change the pillow covers like the change of seasonal clothing.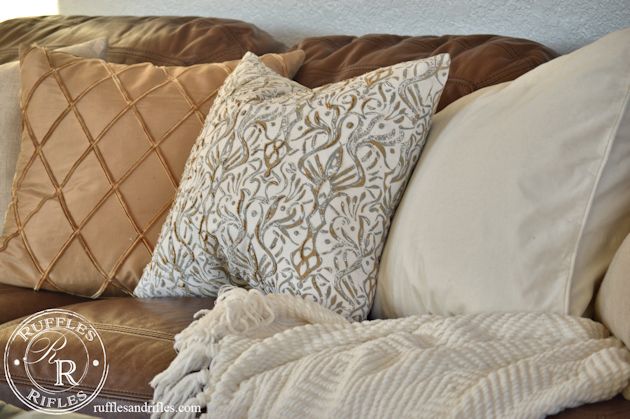 I staged it on our couch in a natural winter, Christmas theme.  I love it!  I love neutrals.  I find it so restful and refreshing.
On the other hand, my men are not impressed.  My eldest quickly decided that it was "spikey" while his father added what good was a pillow that was uncomfortable?  In my opinion, throw pillows are accessories.  They can come in two categories, comfortable like cozy scarves, or pretty and blingy like a necklace.  Necklaces aren't cuddly, they're pretty.  And the saga of living with five males continues…
I gave this beautiful pillow to my mom, where my men aren't daily offended by it.  And, it looks stunning in her house, so it worked out well, in the end.
Thank you for stopping by!
Cheryl
Sharing with: