The Baby Girl Nursery Reveal
I've been promising a nursery reveal for over a year now.  So rather than epic, it feels a bit like old news.  I've shared some sneak peaks of some of the smaller projects in her nursery along the way.  The Sweet Rose Hook Rack that I made from an old drawer front can be found here, the Eiffel Tower Lamp and Rosette Lamp Shade the tutorial for the ribbon roses can be found here, and most recently, I posted a tutorial on how to make custom crib sheets that can be found here.
So obviously I've hesitated on revealing this room, for several reasons.  For one, the lighting is really tricky in that bedroom.  There are times in the year it doesn't even get sunlight.  Secondly, the room is small, and I don't have a wide angle lens.  For those of you who don't speak photography, that means, I can do a lot of close up shots that turn out beautiful, but you can't see the whole room, or even half or a quarter of the room in one shot. (I'm hoping my birthday will grace me with another new camera lens this year.)  And thirdly, there were a couple things I wanted to finish, and have not had the ability to do.  So, I am revealing it, without it being perfect.  Sigh.
But despite those setbacks, I am still pleased to share with you our little girl's nursery.  You can read the long-awaited miracle of her here if you haven't already.
The second I walked out of the doctor's office and found out we were having a girl, I went to JoAnns.  I really wasn't that hopeful I'd find something I loved, but I think the Lord knew the desire of my heart.  I walked in and there was a new line of French inspired fabrics in neutrals and pastels.  I knew I wanted a soft pink, with accents of black and gold, and then neutrals.  I couldn't believe it when it was right in front of me!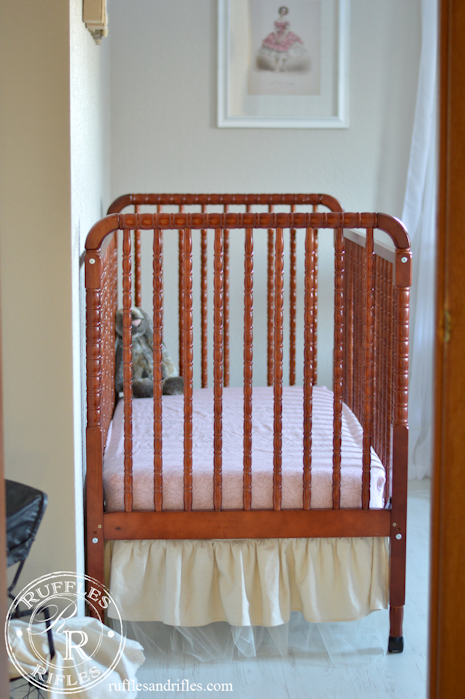 Walking into her room, you see her sweet crib.  We bought this Jenny Lind crib off Amazon for our fourth son.  Ideally, I would have painted it ivory, but painting spindles is a lot of work, and I didn't want to spray paint it because of VOCs – and we were moving.  So it stayed cherry.  I made the crib sheets, see the tutorial for that post here.  I also made the crib skirt, with hints of French and ballet inspiration.  The tulle peaking out of the bottom of the linen skirt makes me happy.  You can also see, behind the crib is a vintage ballet picture I found on Etsy.
To the right of her crib is a changing table that sits below a high window.  We picked the changing table up at a garage sale before our first son was born 11 years ago for only $10!  It was painted once by my husband and I spray painted it in between boys #3 and #4.  I have always used this in lieu of a dresser for my babies.  Every thing is organized in an open fashion and I love not having to bed over on the floor.
I made the sheet for the changing pad, only scaled down the crib sheet for a bassinet sized mattress, the measurements to make a bassinet are also available on the crib sheet tutorial.
The center of the room is graced with a sweet chandelier.  It was previously my mom's that hung in her office.  But when they converted that room to an Air B&B room, with an elegant birch Alaskan feel, she thought it was best to let the chandelier go.  I happily volunteered to put it to good use, and actually traded another light I had on hand.  The chandelier had amber colored beads that I changed out for clear drops I had from another chandelier that had previously died. You never know when you can use random things!
Then there's the corner I spent countless hours nursing and rocking my sweet babe in the comfiest, and prettiest glider rocker set ever.  I shared the glider rocker makeover here, but didn't reveal at that time that I actually had plans to put it in my little girl's nursery.  I love this chair.  I have nursed four or my kids in it, and honestly, it is equivalent to comfy yoga pants.  It's literally my favorite chair in the house, so I'm glad it's pretty now too.  I bought the French Dress Form throw pillow at JoAnns on that first day we heard we were having a girl.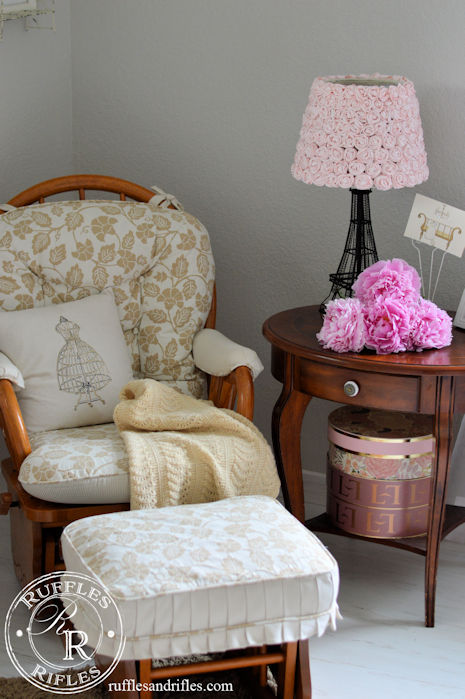 The little end table was quite useful sitting there.  I had envisioned painting it, leaving a wood top that was less shiny and painting the bottom a weathered cream.  But that never happened, so I just say it intentionally matches the crib that is across from it.
Below are two hat boxes.  The bottom one was my daughter's great-grandmother's and the top one was also from JoAnns.
The over the top Eiffel Tower Rosette Lamp takes center stage. There were so many hours spent on it, and I still think it's perfect.
Above the glider rocker are two little metal settee's I found at a thrift store several years back.  I thought they were the perfect unique shelves for this sweet little room.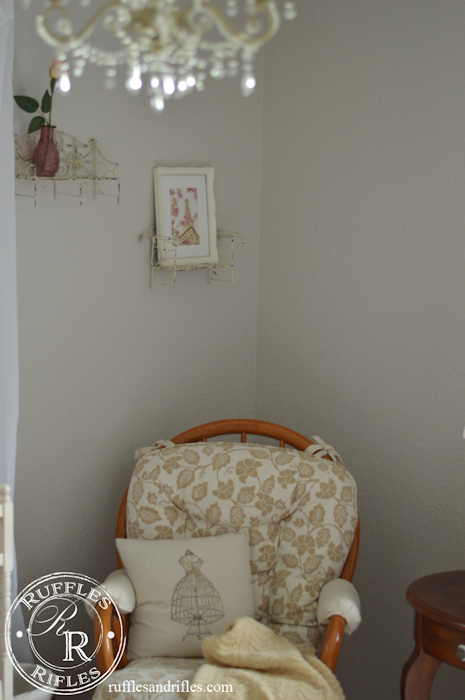 The picture of the cherry blossoms and the Eiffel Tower is a card my sister gave me by Georgianna Lane.  If you love anything Parisian or French, you simply must follow her on Instagram.  It's simply eye candy.  I found a sweet curvy frame at a thrift store and painted it to coordinate with the soft nursery palette.
The doll cradle was my doll cradle as a girl my grandfather made for me.  I painted it several years back in a custom mix of milk paint.  It now holds my daughter's stuffed animals and my old baby doll, and her tiny baby doll she got for Christmas.  The little doll quilt I made out of scraps from the sheets I made in her room.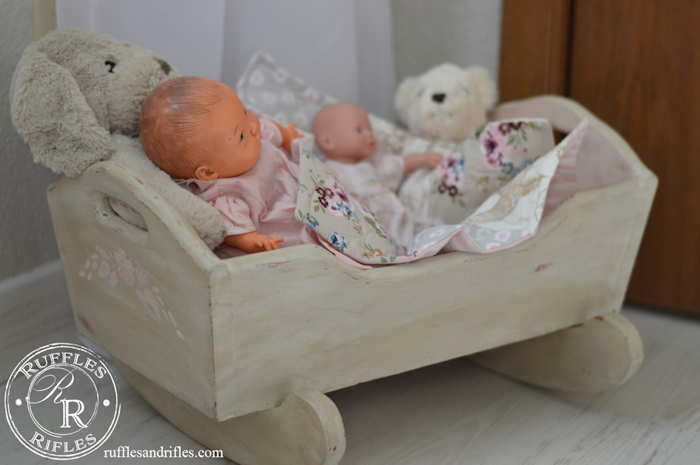 A couple weeks before my baby was born, a friend came over and helped to paint the room.  It is a perfect graige called Agreeable Gray by Sherwin Williams.  They have a paint that is no VOC and it doesn't stink either.  That made me feel better putting that in the baby nursery.  And the floors, they are beautiful.  My mother-in-law actually had those installed before they moved out.  It's as if she new her granddaughter needed the perfect, white-washed wood plank in her little French room.  If we had had the extra bucks hanging around, I would have gotten the perfect Pottery Barn area rug to soften up an area of the floor.  But I just got a small shag gold rug from Target to stand on while changing diapers and have my feet hit getting up out of the chair.
And right as you exit the room, the little rosette coat rack I repurposed from an old drawer front hangs. Now it mostly has headbands (which she finds irritating on her head, of course).
So maybe, once I get a wider angle lens, I will take a few more photos to show you a broader scope of the room, but for now, in the midst of the process and it not even being fully done.  This is our daughter's nursery.
Now that sweet little newborn stands and talks as we walk into her room.  How fast the time flies…
Thank you for stopping by today!
Cheryl
Sharing with: