Vintage Railroad Bench and the Entryway Reveal
I am so excited to finally welcome you into the entryway of our new home.  We've been here about two months now and made it seem like home.  The entryway is a work in progress.  As you will see, it is a huge space to fill (no complaints here) so I have plans, but the reveal is for phase one.
It was already painted a nice light blue with a darker blue trim, and since I like blue, I'm leaving it.  I may eventually change the trim to white, but its fine for now.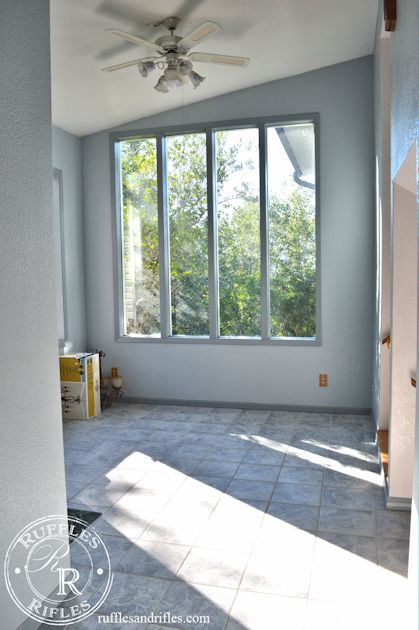 I have had a vision for this entryway for over a year, since we decided to buy this house from my in-laws.  And the first thing I wanted to do was restore an original vintage railroad bench from our very own Palmer Depot.  The Palmer Depot was built in 1935 when the colonists came up during the Great Depression to make something of this land.  Somehow, my husband's great-grandfather acquired one of the two original benches from the depot.  We are all curious as to how he accomplished that, but he had a way of getting what he wanted.
My mother-in-law had it for years.  At one point there was a careless accident and 2/5 of the bench was burned, and I mean completely charred by fire.  She had no heart to get rid of it simply because of the history associated with it.  But when they moved to a condo, I asked if we could restore it and use it in the entryway.  By "we" I meant I needed some extensive help with reconstructing the two burned seats and turning it into a smaller bench.  And I wanted someone else to scrape the paint, just in case it had a lead potential.
Our amazing neighbor and renter took on the task.  He did an incredible job!  All I had to do was paint it.  My gracious hubby did a coat of primer, and then I took on the task of making it look aged with layers of Annie Sloan Chalk Paint.  Honestly, I don't completely remember the order or the colors I used, I just layered and layered with a dry brush method til it looked right.  Then I sealed it with Miss Mustard Seed's Furniture Wax.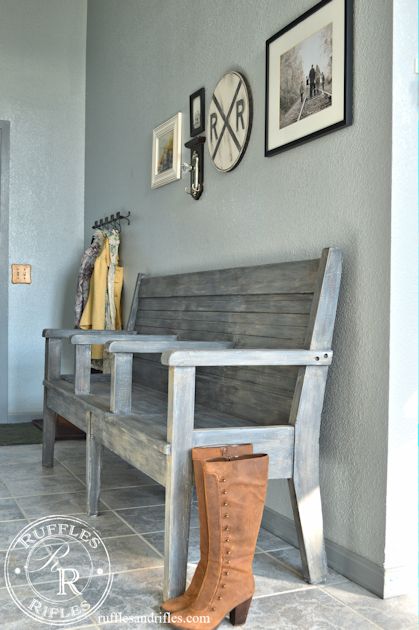 I am pleased with the result, and with the railroad theme that gets to be played out in the entryway.  I used some of our photos from the family photo shoot we had last fall on the train tracks down below our house.  Then I made a Railroad Crossing sign (tutorial coming next week, so stay tuned).  I would like to find a reproduction railroad clock to hang above and I would like to make a large rectangular Palmer Depot sign to put above the photos.  In time.  It's all a process.
And the rest of the entryway, I have plans as well.  Particularly with a settee I have partially torn apart in my studio area.  I'm thinking it will be an amazing sitting area eventually, but I am thrilled with phase one.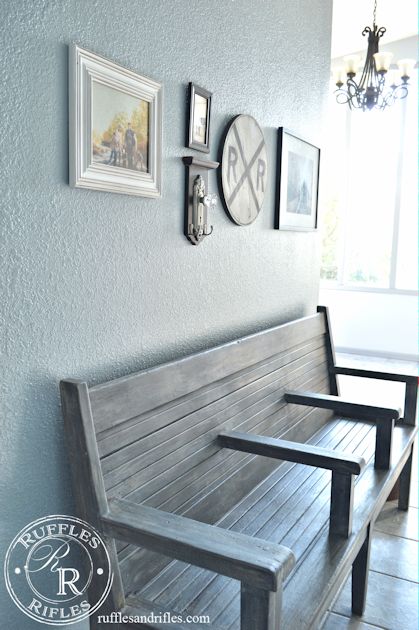 Thank you for stopping by as usual.  Stay tuned next week for the tutorial on how I made the railroad crossing sign.
Many blessings,
Cheryl
Sharing with: