I am slowly getting our fall décor up.  So hopefully in the next week or two I will be sharing that.   I feel totally behind the eight-ball in the blog world.  But I have the cutest little baby girl taking up most of my time these days, and I am not complaining about that!
So rather than fall décor, this week I will share a project I did this past summer for our little girl's nursery.  I can't tell you how much fun I had!  I still have a bit to finish up in her room, but over all, it's done, and I love it!
Today I am going to share with you a unique little hook rack I created out of an old drawer front.  The cost of hook racks seem to be rather absurd.  A piece of wood and hardware and you're looking at $20 (for a cheap, small Lowes one) all the way up to $100 for a nicer one.
But in the land of creativity, oh there is so much potential!  I was scouring an old antique barn with my cousin one evening and came across this abandoned serpentine drawer front.  There was no drawer or dresser in sight, however, I LOVED, the sweet curves on it, and knew if two more holes were strategically drilled in the middle, it would become the perfect unique hook rack for a fraction of the cost.
However, I looked at it for months in my craft room/studio, not knowing really where it belonged.  Therefore, I didn't know how to finish it.  Where in the house needed another hook rack? Should I stain it?  Paint it?  What color?  Should I go really shabby or more refined?
It wasn't until I was finishing up the Railroad Crossing Sign that I was inspired.  Suddenly I saw the sweet dressers I have browsed on Pinterest, light pink and roses painted across them, mainly this one from Shades of Blue Interiors.  Perfectly feminine, perfectly sweet, perfectly inspired for my little girl's room.  There was only one problem.  I have never painted in my life.  I mean, yeah, I paint walls and furniture, but that's completely different than trying to convey a shape or picture with brush strokes of color.
But you know what else inspired me and pushed me out of my comfort rut/zone?  Miss Mustard Seed, once again.  This summer, she started stepping out of her "norm"  and began painting landscape dressers and experimenting with water colors.  Watching her, I realized just because you're good at something doesn't mean you can't branch out and learn and experiment more.  Even if it isn't perfect, which is hard for a perfectionist. But if we are going to grow, we have to be okay with the learning process, not perfection. Life is a process after all, not a destination.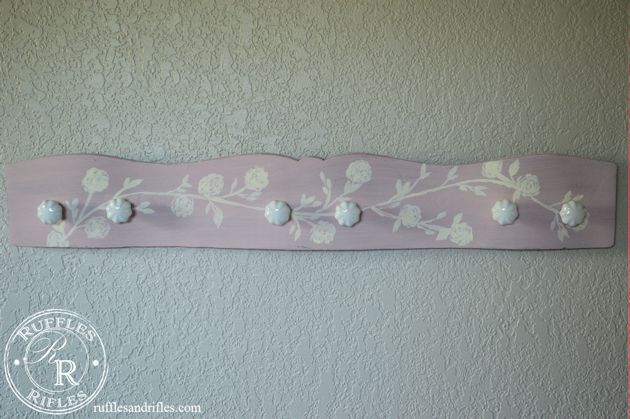 I had already done a base layer of MMSMP in Curio (before I fully decided what I wanted to do).  Then I had some extra Linen mixed up from the Railroad Crossing Sign, and being as I didn't have any Arabesque on hand (Miss Mustard Seed's beautiful pale pink) I decided to mix some red acrylic paint in with the Linen to make a light pink.  And it worked!
So I drew out a branch with some white chalk to swirl around the holes where the knobs would go, and just started painting with white acrylic paint.  I looked at some photos of some dressers I liked the look of and went on my way.  I can't say it's amazing, however, my family all recognized what I was trying to paint, so for a first try, I am satisfied.  It was a lot of fun, and you can be sure I'll be trying some more in the future.  I didn't finish it with any wax or oil as it is on a vertical surface and I really like the matte look.
I used some of the knobs that were originally on our kitchen cabinets when we moved in.  I really like them, they just weren't right for the new look in the kitchen, so I am really excited to repurpose them for some other projects.
Is there something new you have been thinking about trying but found all sorts of great excuses to postpone that inkling?  I challenge you to make a step in that direction, even if it does seem scary.  You don't have to post it on a blog or Facebook, just give it a try.  You may really enjoy it and find a new outlet, or who knows, maybe your hidden calling…
Thanks for stopping by.  A full reveal of our little girl nursery is coming soon.  In the mean time, I have a few projects to share along the way.
Blessings,
Cheryl